Shirley Jean Marr
April 22, 2020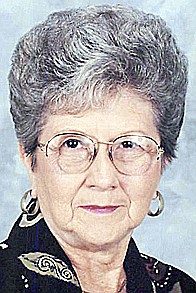 Shirley Jean Marr, age 86, of California, Mo., passed away on April 16, 2020, at SSM Health-St. Mary's in Jefferson City, Mo.
Shirley was born in Latham, Mo. to Courtland and Sadie Maude (Hickman) Rohrbach.
She was a graduate of California High School.
She married Paul Kueffer, who preceded her in death on May 1, 1963. Later she was married to Charles Marr.
Shirley retired from the Missouri Division of Employment Security, where she was employed for 35 years. She was an active member of the FOE #4027. She was an avid card player, loved quilting, and spending time with her grandchildren.
She was preceded in death by an infant brother, Leroy Rohrbach; two brothers, Dean and Richard Rohrbach; and three sisters, Janice Rohrbach, Anna Ruth Gerhart, and Frieda Barbour.
Survivors include two sons, Russell and Rodney Kueffer; a daughter, Charlene Beth Ash (Brian); six grandchildren, Alexis Kueffer (L'Damian Washington), Jacquelyn Kueffer, Zachary Kueffer (Elizabeth Kirby), Mackenzie Kueffer, Jacob Ash and Lucas Ash; five great-grandchildren, Korbyn Liebler, King Washington, Bennett Kueffer, Maci Kueffer, and Kirby Kueffer; one sister-in-law Lula Rohrbach and several nieces and nephews.
Private family graveside services for Shirley Marr will be held at St. Paul's Lutheran Cemetery with Dr. Jeremy Anderson officiating.
Memorials are suggested to the charity of the donor's choice.
Online messages to the family may be contributed at www.windmillridgefuneralservice.com.