Samantha Struemph was not the first to know she was pregnant. 
Her husband had been telling her for a few weeks, and a coworker was pretty convinced as well. 
After a taking test early one morning before work, fully expecting it to be negative, Samantha let out an excited, but thoroughly shocked, scream. 
And so began the Struemphs' — Daryl, 24, a pastor at Eugene Christian Church, and Samantha, 22, a paraprofessional at Thomas Jefferson Middle School — journey to parenthood. 
Once the nausea subsided in her second trimester, Samantha had a relatively smooth pregnancy and delivery. She was induced at 40 weeks and two days. Then at 8:38 p.m. Oct. 22, 2021, a few years earlier than they intended to have children, Samantha and Daryl welcomed Esther into the world.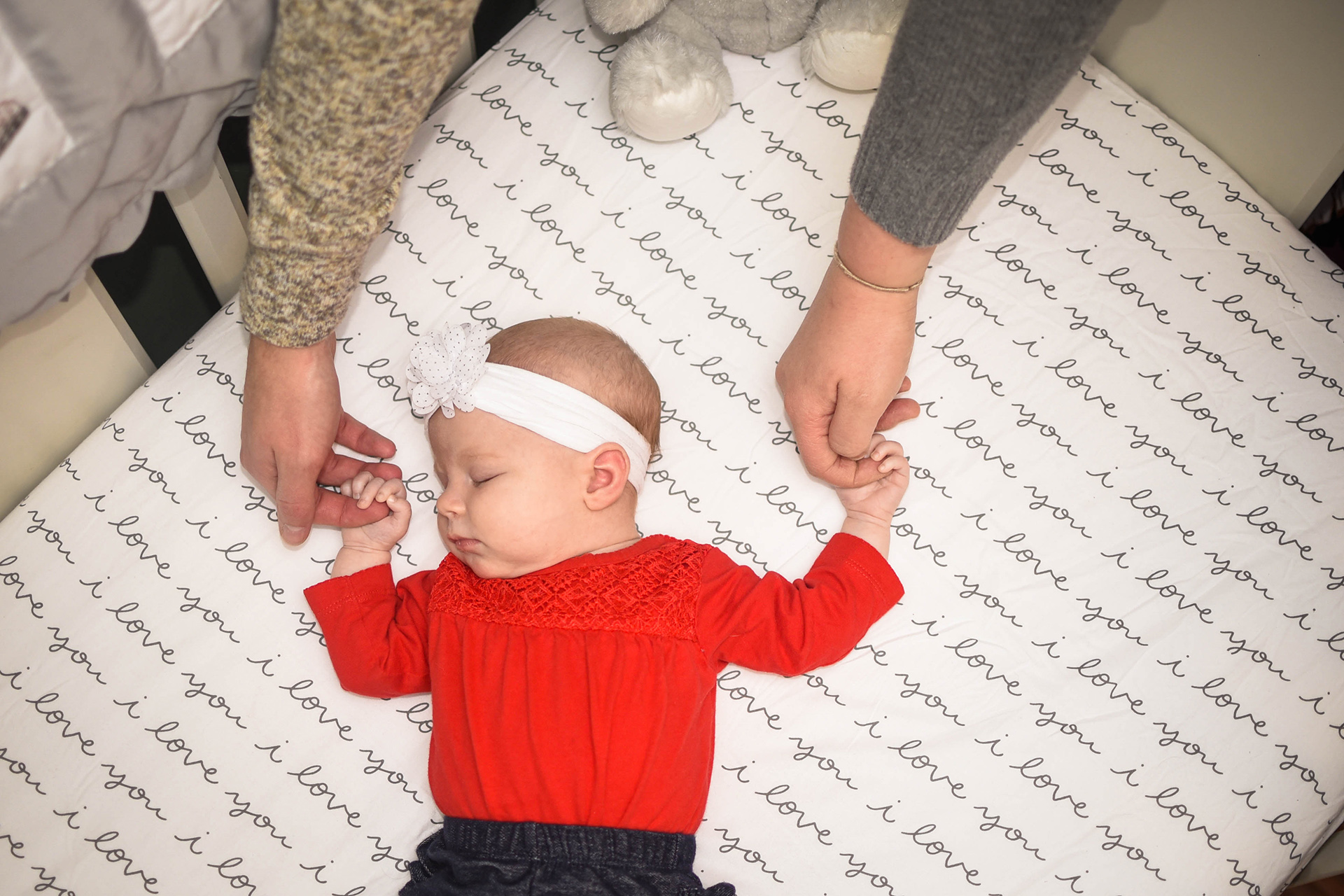 Esther Struemph was born Oct. 22, 2021, to parents Samantha and Daryl Struemph of Jefferson City.
 By India Garrish   ———
Like all new phases in life, having a baby has been filled with immense joy and stress  — and is nothing like they expected. 
"But the thing that was so weird … it feels natural," Daryl said, comparing beginning parenthood to when someone asks how you feel after turning a new age. Yes, something is different, but you just flow from one stage to the next — some moments more gracefully than others — because that's really the only option.
"With some milestones in life, it doesn't always feel like you expected it to feel," he said. "It's been nice getting to learn together; Esther is learning the new things about life, and we're learning together." 
Samantha agreed caring for a new baby has been a natural progression, but welcoming a new child — especially a first child — is something she and St. Mary's Hospital pediatrician Dr. Bethany Crawford said can be incredibly overwhelming. 
"Leaving the hospital for the first time with a new baby is always going to be a bit scary. It's an intimidating moment," Crawford said. 
For many new parents, Crawford said, the sleeping and eating patterns of a newborn cause the most concern. She said new babies operate on an eat-sleep-eat-sleep pattern, only sleeping for two to three hours at a time before waking to feed. 
"One of the biggest pieces of advice that I counsel parents on is having some patience with your baby," she said. "You have to remember that baby just spent nine months in mom where every need the baby had was being immediately met by mom's anatomy and biology.
"Baby didn't get hungry because they were being given nutrients through the umbilical cord; baby didn't get cold because they were floating around in fluid nestled inside mom. All of these are very new things that babies are having to figure out. So patience is a big thing." 
Samantha agreed Esther has taught her a lot about patience, something she admitted to not having a lot of pre-baby. Though she knew sleepless nights were part of the deal, there were a lot of new feelings and responsibilities she couldn't quite anticipate.
"I don't think you can be fully prepared," she said. "The biggest thing I wasn't prepared for was how much help I was going to need."
Daily tasks like laundry and washing bottles — each with numerous small pieces that need to be taken apart and cleaned individually — become far more burdensome when you have a hungry baby requiring constant care and attention. 
"Don't neglect your mom's help," Samantha said, noting her mom stayed an entire week at their Jefferson City home after Esther was born to help. "I've always had a great relationship with my mom, but I appreciate her even more now because I see what she went through with me.
"She just knows. She's been through it and just knows what to do or what to try and is just willing to step in. It's what moms do, and it's really cool to have your mom teach you how to be a mom." 
———
All of these new things had Samantha questioning a lot of her choices. 
"I was not prepared for the postpartum blues. I think I laid awake sometimes just thinking 'Is she eating enough?, is she latching right?, is she gaining weight?'" she said. "I think more than anything, I was super stressed."
That level of anxiety, and in some cases postpartum depression, is incredibly common among new moms, Crawford said, noting most doctors screen patients for postpartum depression through the baby's first birthday. 
Early on, Samantha said she spent a lot of time on the internet, researching every little thing Esther was doing, asking 'is this normal?' at every turn. 
Then at some point, she knew that needed to stop. 
"Your baby will not be just the average baby; it's going to look different," Daryl said. 
There's no Esther-specific handbook. 
With all that stress, it was easy for Samantha to lose herself in the daily tasks of parenting, she said.
"At the end of the day, you're still a person. I'm still a wife ... and for us, it's Christ at the center or our relationship and in our home. In the beginning, I lost myself a bit spiritually and mentally, and I'm still in that rut because I was so pulled into, 'I'm doing everything wrong.' So I lost myself and lost some of those special moments.
"Postpartum depression is real and hits you hard and comes on without warning." 
Crawford advises new parents to take a break when they can; have a trusted person watch the baby while you take a relaxing bath or get out of the house for a few hours — something to clear your head.
For Samantha, listening to and playing worship music and taking trips to Target while drinking Starbucks help her to regroup, as do honest, sometimes tough, conversations with Daryl and others she trusts. 
Having a baby — and all the messy, beautiful, anxiety-inducing moments that come with it — has the potential to impact a relationship in countless different, evolving ways. 
Samantha and Daryl say it's brought them closer, made them more comfortable in expressing their vulnerabilities. 
"Don't make the whole marriage, the identity of your marriage, be your children," Daryl offered as a piece of advice to other new parents. "It can be easy to slip into just focusing on the child, and that can bring you closer. But if that's the only thing you're focused on, then you could find yourselves later drifting apart." 
So the Struemphs relish in an occasional Saturday morning date and practicing music together, and that time away makes coming back to Esther all the sweeter, especially when she looks up, recognizing mom's and dad's faces, and gives them a big, happy baby smile.  
———
From the doctor
Dr. Bethany Crawford, who is in her fourth year as a pediatrician at St. Mary's Hospital in Jefferson City, offered some advice for parents bringing home new babies and how to keep them safe once they've arrived. 
Before baby:
Crawford said securing a pediatrician is important for new parents to do before the baby is born, typically around the third trimester of pregnancy.
Establishing that relationship early, allows parents to research and find a health care professional who makes them comfortable and shares their values. 
She also said pediatricians often offer prenatal visits for parents to meet the doctor and ask all their new baby questions: What is jaundice? How do you prepare for safe sleep? What are the best breast-feeding practices? 
Questions are sure to pop up once the baby arrives, but Crawford said prenatal visits often relieve a bit of anxiety, especially for first-time parents. 
In addition to pediatricians, she said new moms planning on breast feeding should look into finding a lactation consultant to assist with the transition. 
While numerous online resources exist for planning for and bringing a new baby home, Crawford recommends healthychildren.org, which is the parenting website form the American Academy of Pediatrics. 
Keeping baby healthy:
One of the biggest concerns Crawford encounters is parents worried about keeping their new baby safe from infections like influenza, RSV and COVID-19. 
"One of the most important things you can do for a newborn baby is ensure the people that are going to be around them are fully vaccinated for diseases that the baby may be particularly sensitive to — influenza, COVID-19 and pertussis," she said, noting pertussis is whooping cough, and the Tdap vaccine can prevent it. The vaccine is recommended for all of the baby's caregivers. 
RSV, respiratory syncytial virus, is a common respiratory virus that can be dangerous in infants, and there is no vaccine against it. Crawford recommended parents and caregivers practice frequent handwashing and keeping the baby away from too many people, especially those with cold symptoms, for the first few months. 
Newborns are more susceptible to serious bacterial infections than older children so fevers are emergencies, she said, noting medical care should be sought for a fever 100.4 degrees or higher.
Crawford said parents should also pay attention to anything that feels different.
"I tell parents, if your baby just is acting different, like yesterday they were feeding like a champ and today they're just a lot more lazy, then it's OK to ask your pediatrician or bring them in for an appointment," she said. "We're always happy to take a look."