Shop Girl has been all about giving furniture pieces a new purpose since its founding in June 2016.
Owner Peggy Davis was dumpster diving before it was cool — growing up in a rural area, you learn how to make shabby chic. The shop keeps track of the history of each piece, so when customers purchase it, they see "how meaningful the new beginning is."
Dr. Nancy Howe has been a longtime creative collaborator at the shop, restoring furniture and makes DIY decor to sell — sometimes, it's more like rebuilding, she said.
"We have a couple pieces that wouldn't sell in the situation they're in currently," Howe said. "I don't like to destroy anything priceless: I like to upcycle trash." It started as a way to save money during medical school, and has since led her to restore more than 100 pieces for herself and the shop.
Howe walks us through the refurbishing of a 1970s presswood cabinet, from the first coat of paint to the sale, and some tips to bring a new beginning to old decor.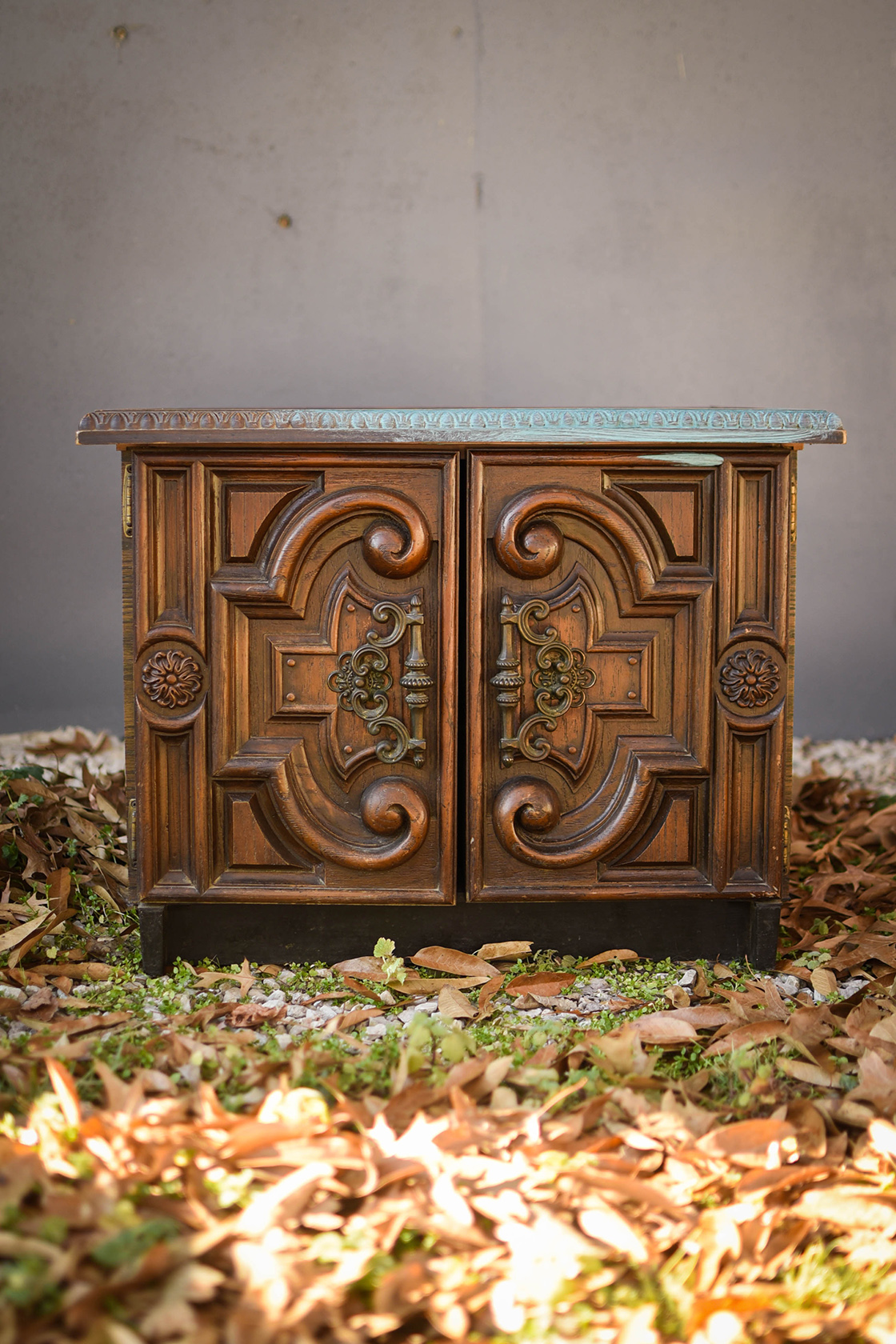 Berfore: Nancy Howe walks us through a step-by-step guide giving new life to a 1970s presswood cabinet.
By India Garrish

Find a vintage piece with a solid tint and some kind of textured trim. It's harder to work with a wood box, Nancy Howe said. She looks for pieces that have unique accents, like chunky handles. Later on, your paint technique can be used to help those elements stand out.
Clean the piece, "de-spidering" any corners and making minor repairs with glue. Then, prep the surface depending on the type of paint you're using — the shop uses MudPaint Clay-Based Paint, which can bond with multiple types of surfaces. Howe will make sure there is no restoration oil on the surface, like Pledge, and use rubbing alcohol to clean it off.
Use colors that aren't too distracting, but that can be staple pieces in a room. "It's a good way to add modern color and redo a room without replacing the furniture," she said. She uses about two coats of MudPaint color, but as these furniture pieces made with pressboard wood are more porous, the first coat of paint may soak in. If there is any other surface grit to it, Howe likes to "treat it as it lies" and work that grit into the paint finish.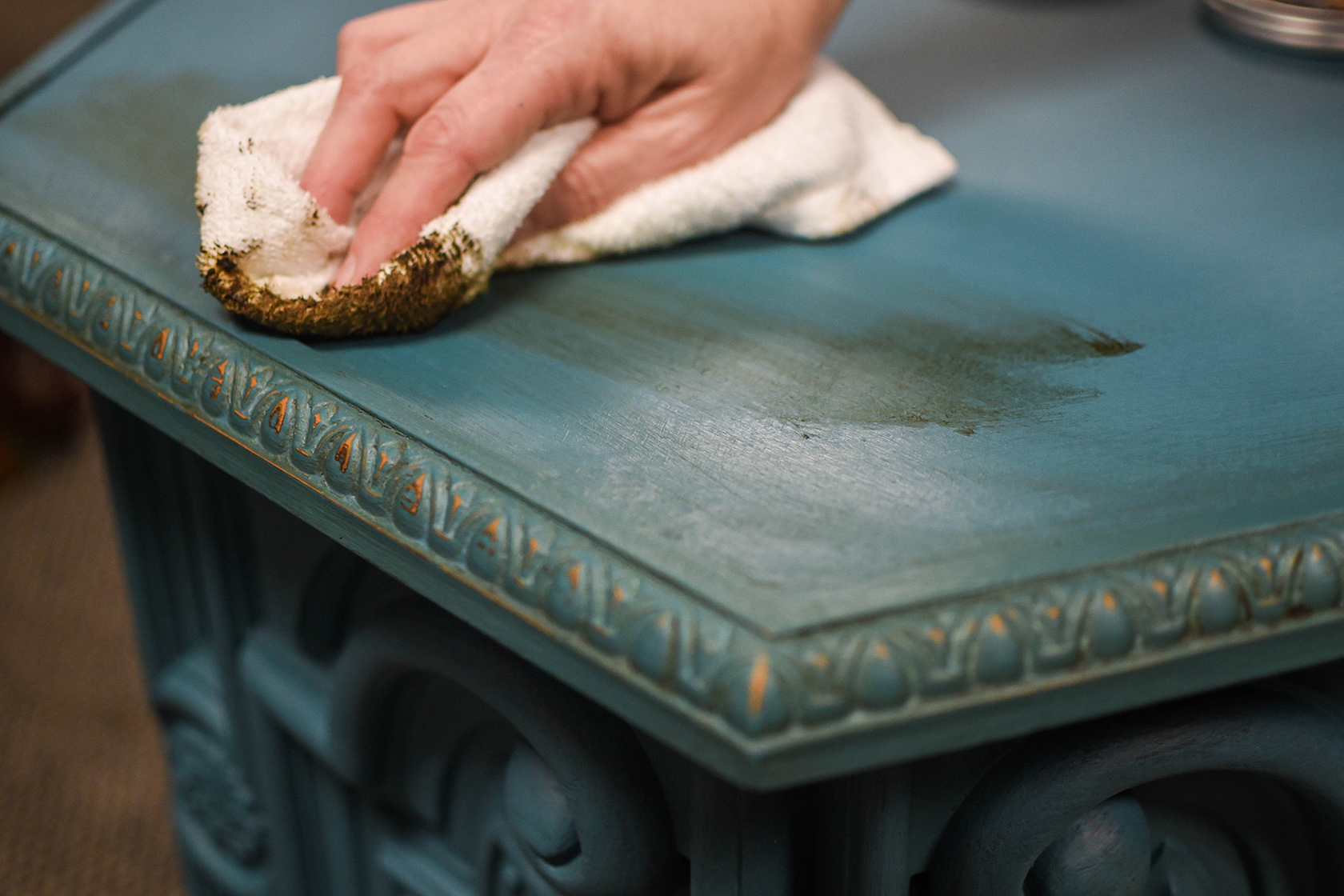 During: Nancy Howe walks us through a step-by-step guide giving new life to a 1970s presswood cabinet.
By India Garrish
After those coats have dried, seal by applying clear wax over the paint in circles. Don't worry about controlling the wax, you can always apply more if needed. Acrylic polycoat can be another option for sealing the paint. "You can put wax on with just about anything," Howe said as she used a regular microfiber cloth to wax the piece.
When the clear wax dries, buff it off with the same cloth. To add some dimension, you can use the dark wax over raised parts of the furniture to add dimension and give it an effortless, aged look. "It adds a patina to it, an aged coating," Howe said. "You can do the same thing with other colors of paint. It's kind of limitless."
Add extra dimension with sandpaper. For this piece, Howe went in after painting and waxing the presswood and took even more detail off the raised parts, making some of the original color pop and complement the hardware's dark brown tones. For those new to using sandpaper, go slow and start with a lower grade, then move up in grade to go a little deeper. Howe started with 120 grit sandpaper, then used 100 grit to sand away more paint. She said adding dimension through dark wax, sandpapering raised details and using multiple colors makes a piece look less flat. You can also use a darker paint color on the raised details that complements the original hardware.
Once the surface looks ideal, add the hardware back on. If it's in good shape, Howe leaves handles unpainted to pop against the furniture color, although it depends on the desired finish. "Painting hardware can make it look more shabby-chic, but this hardware is good," she noted.
Some of Nancy Howe's refurbished pieces of furniture are sold at Shop Girl, 106 Boonville Road, Suite C in Jefferson City.