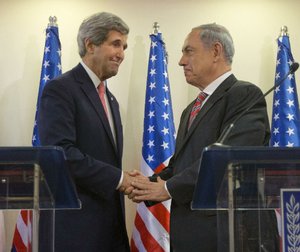 Photo by PABLO MARTINEZ MONSIVAIS / AP
U.S. Secretary of State John Kerry (left) and Israeli Prime Minister Benjamin Netanyahu complete their joint statements Thursday at the prime minister's office in Jerusalem. Kerry assured Netanyahu that Israel's security is a top priority even as world powers enter a nuclear deal with Iran.
Ozarks music has been a significant part of Marideth Sisco and Van Colbert's lives, long before their vocal and instrumental contributions to the 2010 independent film "Winter's Bone" helped internationally popularize their artistry in the folk genre.
The two Missouri natives formed a bond through their shared love of music, as did the handful of other artists who performed multiple songs for the movie's soundtrack. In fact, the popularity of their Ozarks music led the group working on a Missouri-based film to form Blackberry Winter Band, releasing a few albums of their own and performing at venues where audiences craved their traditional sound.
Even though Sisco and Colbert continue to perform in ensembles and on their own, they also share their mastery in Ozarks music and customs with fellow Missouri talents through the Missouri Folks Arts Program's Traditional Arts Apprenticeship Program (TAAP).
At 7 p.m. May 20, banjo picker Colbert and vocalist and storyteller Sisco, along with their apprentices, will deliver "Ozark Music and Tales" as the opener for the second annual Backyard Concert Series at the Jefferson Landing State Historic Site.
The event's co-hosts - the Missouri State Museum and Missouri Folks Arts Program (MFAP) - strive to engage the public in the state's rich history, music and arts. They have frequently joined forces during the past 20-plus years to showcase the state's artists and artisans who keep these vital pieces of Missouri alive and well. It seemed only fitting for the entities to collaborate in showcasing some of the MFAP's artists during the free, summer-long outdoor festival at a former transportation hub that was once a newcomer's first impression to the state capital.
"Each year the concert is a little different. We are flexible and diverse in what we showcase, but music is always at the heart of it," said Tiffany Patterson, director of the Missouri State Museum and Jefferson Landing State Historic Site. "People love music; and being outdoors for concerts is a wonderful, relaxing activity. We decided to partner with the Missouri Folks Arts Program, highlighting its artists in TAAP and showcasing some of the artists involved and bringing Missouri traditions together at one place."
Funded by the National Endowment of the Arts and Missouri Arts Council, TAAP reflects the program's mission by helping traditional and folk arts found in Missouri be passed on to the next generation.
TAAP starts with hand-written applications submitted to participate in the program each June, with a committee reviewing them and awarding apprenticeships in a variety of folk arts and customs, such as music performance and instrument building, storytelling, blacksmithing, boot making, john boat building and basket weaving, MFAP folk arts specialist Deborah Bailey said.
During the eight- to nine-month apprenticeship, the minimum weekly visits between apprentice and master artist build a bond that keeps the state's folk art preserved and active.
"You have everything from country dancing and drum percussion to gospel piano and Native American pow-wow regalia making and storytelling. Music, dance, visual and performance art, storytelling and cultural arts - it is all related to our local environment," Bailey said. "The reason TAAP works so well is it gives us a chance to showcase these arts to the public."
Bailey is excited for Sisco, Colbert and their apprentices to share their crafts with audiences at the Backyard Concert Series opening performance.
Performing music in California, delving into stained glass art, writing for the West Plains Quill and continuing her crafts of storytelling and singing traditional Ozark music highlight Sisco's rich history. In more recent years, she has become more widely known for her acting appearance and music contributions to the soundtrack of Missouri-based film "Winter's Bone."
Sisco still writes, performs music and tells stories, sharing her craft in relaying tales of her life, lessons, gardening and more during a monthly radio show, "These Ozark Hills," on KSMU. She has been working with Patricia Hight, who has long enjoyed a family tradition of storytelling from her grandmother.
"It is a down-home, easy-going way of telling a story," Bailey said. "Patricia learns how to collect and structure her stories, presenting them publicly in some way. Good storytellers keep the story moving, which Sisco is excellent in doing."
Colbert grew up in a musical family, often playing with his brothers in a band in his native southern Missouri. He started playing at age 13, when his dad bought his first instrument from a West Plains pawn shop. Colbert has kept with his pre-bluegrass style of Ozark music, which is more mellow and melodic and can be quick and slow, Bailey said. She said Colbert's apprentice, Cindy Parry, is a guitar player and percussionist, wanting to learn a more traditional music on the banjo.
"Even though she hasn't played that long, she is doing very well," Bailey said.
The Backyard Concert Series will welcome returning artist Rose Ridge to its outdoor festival at 7 p.m. June 17, with artists still being scheduled for the July performance, Patterson said.
On Aug. 12, audiences are in for a treat when Ironweed takes to the stage at 7 p.m. This ensemble brings the finest in bluegrass, vintage country and "good ol' hillbilly twang," according to the Missouri State Museum's Facebook event page. The band features Joe Wieneman on mandolin, Jane Accurso on guitar and lead vocals, Dierik Leonhard on banjo, Matthew Bossaller on slap bass and Kelly Jones on fiddle.
"Kelly Jones is one awesome fiddler, and he was in the (TAAP) program," Bailey said. "They are going to love this group, and with Kelly, you just can't lose."
Patterson is encouraged to draw more attendance to the Jefferson Landing State Historic Site from the Backyard Concert Series, which was one of the main reasons they started the festival. She believes this year's Backyard Concert Series will draw bigger audiences than last year's event debut.
"We got really positive feedback from last year's first concert series. A couple of folks came back for all four concerts," Patterson said. "Hopefully coming into our second year, we will hit the ground running."
The concerts are free and open to the public. They are BYOC (bring your own chair) events, so guests are encouraged to even bring a picnic supper or order pizza, and enjoy music and more on the Lohman Building lawn.
For more information, call 573-751-2854 or visit the Backyard Concert Series event pages on the Missouri State Museum's Facebook page.