Cole County Sheriff's deputies "didn't see hide nor hair" on Thanksgiving of an alleged shooter from Holts Summit for whom they are searching, but their plates were overflowing with a bounty of other calls, Capt. John Wheeler said Thursday night.
But one man who did get an up-close-and-almost-too-personal look Wednesday at the fugitive, Jerry Dean Gill, and Gill's gun was counting his Thanksgiving blessings Thursday night that "no one was injured, and my UTV was insured."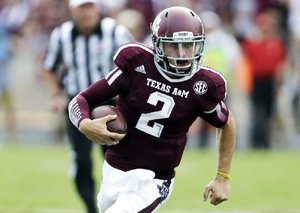 Photo by AP
Texas A&M's Johnny Manziel (2) scrambles for yards during the third quarter of an NCAA college football game against Rice, Saturday, Aug. 31, 2013, in College Station, Texas. Manziel missed the first half due to an NCAA suspension. (AP Photo/Eric Gay)
That would be veteran helicopter flight paramedic Mike Hagen's summary of a brush he had with Gill at Hagen's home in western Cole County, near Highway D and Terrace Drive.
Hagen said Gill drove a neighbor's stolen all-terrain vehicle onto the Hagen property around noon Wednesday, where it ran out of gas. When Hagen went to investigate the clamor on his dead end road on his own red Polaris Ranger ultility-task vehicle, Gill got the drop on him as Hagen was knocking on a neighbor's door to use the phone.
Hagen's been a helicopter flight paramedic for 23 years. He's seen his share of excitement. When Gill fronted him, displayed his firearm and demanded the UTV, "I told him, you can have it, brother. It's not worth getting shot over."
The Polaris UTV, a noisy machine, had not been found by sheriff's deputies by Thursday night, despite a thorough search in the Lohman area. Wheeler said he was operating on the assumption Gill used the Polaris until it too had run out of gas somewhere in the rough, rural area near the Hagen property. The location is just south of U.S. 50 at St. Martins and just north of West Lohman Road.
"We haven't seen hide nor hair of Gill," Wheeler said, "but we've had about a third more calls than normal. Thanksgiving is traditionally a time for families to embrace and remember all they have to be thankful for," the sheriff-elect said. "Most of the time, that goes fairly well.
"But sometimes, they embrace a little too much, and we have to step in and become mediator to break up family arguments. The holidays are like that."
Wheeler said he believes Gill remains in the area. He personally answered three leads Wednesday from possible sightings of Gill, which proved fruitless. "This is an active case, and my guys are out there looking right now."
Wheeler said the $500 cash reward offered by Jefferson City CrimeStoppers should stir interest among residents who can help law enforcement capture Gill. "That $500 is going to look pretty good after Thanksgiving for someone out there who knows him," Wheeler said.
Anyone with information about Gill is urged to call the sheriff's office at 573-634-9160. Given the allegations he is facing, Gill should be considered armed and dangerous, Wheeler said.
One county deputy reported the day-side shift "was extremely busy" Thursday even considering the holiday. Searching for and apprehending Gill was just one of the department's priorities. The sheriff's operation took charge of the search Thursday after the Jefferson City Police Department, the Missouri Highway Patrol and other area law enforcement agencies scoured the region for him earlier in the week without success.
Gill is being sought for allegedly shooting a woman in County Park about 3:45 p.m. Monday. A warrant seeking Gill's arrest accuses him of two counts of second-degree domestic assault and one count each of armed criminal action and false imprisonment. The charges stem from an altercation witnessed by others at County Park at the time. It began with Gill and his victim exiting their vehicle, engaging in a shouting match and then Gill producing a firearm, with which he allegedly shot the woman once in the right forearm. He was allegedly overheard threatening to kill the woman and firing his weapon a second time at her. That shot missed its mark, and Gill fled the scene.
The victim told investigators Gill was a former boyfriend who had held her captive in his car since Saturday afternoon. The woman claimed Gill forced her to urinate in her pants, seized her phone and assaulted her with his fists and a police baton. She said he took her to the park to use the restroom but she refused to re-enter the vehicle, upon which Gill shot her. After Gill left the park, the wounded woman was taken by the witnesses to nearby Thomas Jefferson Middle School and then transported by ambulance to University Hospital in Columbia.