WARDSVILLE, Mo. - The Blair Oaks softball team got off to a hot start Wednesday, scoring three runs in the first inning. With Payton Staggs on the mound, that was more than enough.
Staggs threw a four-hit shutout and Hannah Schroeder blasted a three-run homer to lead the Lady Falcons to a 7-0 defeat of Helias at the Falcon Athletic Complex.
"She just dominated us," Helias coach Dan Campbell said of Staggs. "We weren't very aggressive at the plate, and she's a great pitcher. We threatened in the first, and I was hoping we could maybe get a big hit there, but we didn't. Then after that she just settled down, and she was in full control."
Helias knocked consecutive two-out singles in the first inning, but Staggs drew a lineout to start a string of 11 consecutive batters retired. She finished the game with five strikeouts, four of which came in the first three frames.
"She was impressive," Lady Falcons coach Sharon Buschjost said. "I thought it was a dominating performance."
Blair Oaks didn't waste time once it got to the plate. Leadoff batter Emilee Jones singled a full-count pitch up the middle and moved to second on a Carli Buschjost sacrifice bunt. Staggs drove her in with a groundout to shortstop. Then came back-to-back-to-back doubles from Macyn Wilbers, Natalie Mudd and Schroeder to add two runs to the Lady Falcons' lead.
Schroeder's opposite-field shot in the third doubled the score, plating Wilbers and Mudd, who each singled. The Nos. 4-6 hitters contributed eight hits in nine trips to the plate for Blair Oaks.
"We've had quite a few players hitting for power and hitting for average," Sharon Buschjost said. "I'm trying to give an opportunity to those players who are hitting for power and average and get them into the lineup and reward them. We have quite a few bunched in there."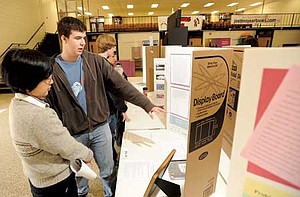 Photo by Andy Shupe
James Harter, a 15-year-old sophomore at Fayetteville High School, center, explains his science fair project to Carole Lee, a doctoral student in science education Saturday at the University of Arkansas during the Fayetteville Public Schools Science Fair at Ramay Junior High School. Harter's project studied the growth of the chicory plant.
Blair Oaks added a run in the fifth when Staggs and Mudd singled and Schroeder drove in Staggs with her third hit of the day. Schroeder finished the game with five RBI. Mudd was also 3-for-3 with an RBI.
The Lady Falcons got a hit in every inning except the fourth, notching 12 total.
"In the team huddle (after the game) I talked about how I felt like we played a complete game," Sharon Buschjost said. "There's nothing better than starting it off in the first with a base hit and then just kind of rolling from there."
Helias, meanwhile, didn't record its third hit until the fifth inning on an infield single by Abby Masek. Jordyn Nappier singled in the sixth, but was stranded at first by two flyouts to center.
The Lady Falcons improved to 5-0 with the win.
"Five-0 is a good way for any team to start," Sharon Buschjost said. "I think it just adds to the confidence that we may already have going into the season."
The win against the Lady Crusaders - who entered the game 8-2 and had already defeated Jefferson City - was a big one for Blair Oaks.
"I talked to the team beforehand and said, "This is a team that's playing very well right now with some big wins,'" Sharon Buschjost said. "And nothing would be bigger than to have wins against Jeff City and Blair Oaks. And I said, "They will be ready for us.' I just felt like we just controlled the game early and stayed on top."
Last week, Helias defeated the Lady Jays, who are coming off a Class 4 Final Four appearance. Since the 8-4 victory, the Lady Crusaders have dropped two of three. Campbell hopes Helias can rebound for this weekend's Capital City Invitational, in which Blair Oaks also competes.
"I think on any given day, us three are fairly evenly matched," Campbell said of Helias, Jefferson City and Blair Oaks. "We didn't show that tonight, but it's a strange game sometimes. Sometimes a team is hot and you're not. Last week we were playing pretty well, and this week we're not, so hopefully we can turn it around before the tournament Saturday."
Helias plays Lee's Summit at 5:30 p.m. Friday on Field 1 of 63 Diamonds, and Blair Oaks plays Rock Bridge on Field 3.
Blair Oaks won the JV game as well, 5-3.
Brooke Boessen hit a home run and a single, and Nicole Bryan doubled and drove in two. Emma Boessen singled and drove in two game-winning RBI in the fourth inning.
Makenna Kliethermes was the winning pitcher, striking out seven.
The Lady Falcons JV (7-1) plays Jefferson City today at 63 Diamonds.