For nearly a century, 207 E. High St. was a staple of men's fine clothing in Jefferson City. The ownership changed hands and the styles certainly took their turns, but the location was dependable.
Today, the first floor features the green awning of Midwest Travel.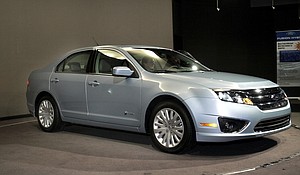 Photo by Carlos Osorio / AP
The 2010 Ford Fusion Hybrid won the 2010 North American Car of the Year Monday, Jan. 11, 2010, at the North American International Auto Show in Detroit.
But after Soloman Winan bought the lot in 1883, the brick building's second story featured stained-glass windows - a must for Winan's wife - and the image of a camera, suiting the early photographer's studio and residence.
"During that era, shop owners lived on the second floor above the business," a July 16, 1989, News Tribune story claimed.
A two-story log structure stood on the lot when Winan bought it. The second-story had been occupied by Henry Long, a prominent lawyer in his day, and the first floor served as a tailor shop around 1870, and later as A. Opel and Son carpenter shop, according to the late George Hope Jr., who wrote a history of the property for the News Tribune in 1949.
The corner lot at Madison and High streets originally sold in 1825 to Hardin Casey, who subdivided it. Within 20 years, the lot featured a two-story brick store operated by Isreal Real, a two-story brick store owned by a Gordon, a two-story log house built before 1840, and a two-story brick house built about 1833 facing Madison Street and owned by Merriweather Jefferson.
By 1865, the firm of Morris and Joseph Obermeyer owned the entire High Street frontage, which contained the Obermeyer Mercantile Company, another commercial site and two residential buildings.
Winan bought the lot with the two-story log house in 1883, where he built "Winans Gallery." His two-story brick commercial building originally had a 14-feet-high ceiling on the first floor and stands 22 feet by 78 feet.
"The bricks were fired from the dirt road in front of the store," according to the Cole County Historical Society.
The original storefront - including cornice, transoms and display windows - was removed in a 1950's renovation. But the second-story, three-bay front was unaltered and features an elaborate pressed metal cornice.
"At the end of the 19th century, the top of the building was covered with an elaborate pressed metal cornice with a pedimented middle section which had a sunburst motif, Winan's name and was topped with a box camera," according to a National Register of Historic Places nomination prepared by Patrick Steele.
Winan sold in 1895 to George Hope, who had control of several nearby streetfront properties.
In 1906, the building was leased to the Morris Hat Shop, until Harold Remley Sr. opened a men's clothing store, the 1989 News Tribune article said.
The second floor has served as a home, doctor's practice, business college, tailor shop and a variety of offices.
Remley sold his business in 1951 to Boyd "Bus" Caplinger and Nick Sims.
When Sims died in 1964, Caplinger purchased his share of the business.
After serving with the U.S. Marine Corps in 1952, Dick Caplinger returned to work at his father's business while studying at Jefferson City Junior College and the University of Missouri. The younger Caplinger graduated in 1956 and began managing the business. He bought the business from his father in 1972 and the building in 1974.
Dick Caplinger served two terms on the Jefferson City Area Chamber of Commerce board and was president in 1976. He also served on the city's Planning and Zoning Commission for 17 years, serving as chairman two years.
With his late wife MaryAnn, who started the Downtown Living Windows tradition, they were a force for beautification and historic preservation, as well as downtown commerce.
"We were competitive, but we also worked together," Caplinger said of the downtown merchants. "We benefited from the state workers and their lunch hours; we had quite a following."
The Caplinger's rehabilitation of 207 E. High St. in 1990 was highlighted in the 1991 Missouri Department of Natural Resources Historic Preservation Program Annual Report.
The Caplingers "started with historical photographs, consulted with experts and invested huge amounts of time and care to reconstruct an old Jefferson City facade in modern Jefferson City," the city's Landmark nomination said. "It stands as an example to which all historic renovation projects must aspire."
"When Soloman Winan stood watching the brick masons put the final touches on his store, he was, beyond a doubt, concerned solely with the urgent need to build a place to do business which would support his family," the late MaryAnn Caplinger wrote Sept. 4, 1998. "Today, his ghost would be awestruck and justly proud that an idea sparked so long ago has been functioning from that moment into the third millennium!
"We are indebted to him and to all those who have productively used and maintained this fine example of our Jefferson City's architectural history."