Literally, a landmark - the freestanding clock at the corner of High and Madison streets in downtown Jefferson City - has been a rendezvous location for businessmen and a point of reference for visitors for 80 years.
The gilded timepiece built by the O.B. McClintock Company was installed in front of the Exchange Bank location in the 200 block of High Street in 1916.
The downtown icon was relocated 16 years later to its current corner after the bank took over First National Bank and moved into the larger building at 132 E. High St.
Although the bank, which was the first bank established in the city in 1865, changed its name to Hawthorn Bank in 2007, for historic purposes "Exchange National Bank" remains on the clock frame.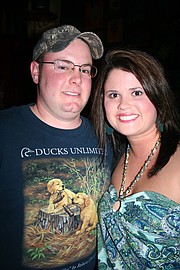 The four faces each had to be wound by hand every 24 hours in the beginning. And it chimed every 15 minutes with different tones.
Electricity was added in the 1940s.
In 1998, a tractor-trailer truck driver misjudged his turning distance and destroyed the base of the clock.
The bank chose not only to repair the clock, but to restore it to its original appearance.
Almost every bank in town has an outdoor, time-keeping device of some kind, most are digital and one is a billboard face clock.
Hawthorn's is distinctive, noted Lance Stegeman, business development officer. So much so, a smallerscale replica was included in the lobby architecture for the bank's west branch.
And as of 2005, it's a city Landmark.
"I've seen people take pictures in front of it," Stegeman said. "It has a look that someone wants to be recognized in front of."
Although most time-keeping is digital these days, the charming, four-faced clock still is relevant to its place downtown, Stegeman said. As several downtown retailers and property owners continue to restore the streetscape to its turn-of-the-century appearance, the clock looks more in place than it did 30 years ago, said Stegeman, who also is president of Downtown Jefferson City Inc.
At one time, the bank's motto even was "The Bank with the Time for You." "It is historic," Stegeman said. "It stands out."