Generations of Jefferson Citians have found camaraderie and libation at the corner of 700 W. Main St.
The 10th oldest continually operating pub west of the Mississippi River, Paddy Malone's, has changed hands and names several times during its 140-year history.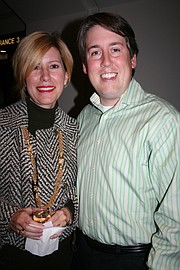 What has remained the same - except during Prohibition - is its role as a neighborhood anchor. (However, rumor has it Cole County was the third wettest county during the bootleg days, so it may have continued.)
Before technology hastened the exchange of news and conversation, taverns were both gathering places and sources of local news, said owner Allen Tatman.
"People communicated news by word of mouth," Tatman said. "It wasn't just a place to have a drink, it was a place to socialize and find out what's going on - not just in the community, but from travelers."
That integral role still is seen in pubs in Ireland, said Tatman who continued the Irishflavored theme started by former owners John and Anne Erangey, who emigrated from Cork, Ireland.
"We don't think of ourselves as a bar - that's a place to get a drink," Tatman said. "This is a pub - it's a community; we don't have customers, they're friends and family."
Maintaining tradition, Tatman and his wife, Marilee, live above their business, just as their counterparts before them did dating back to 1880, when Victor Frank lived above with his wife, Elizabeth, six children and a servant.
Although both sides of the brick, Germanstyle establishment are in use, some patrons have suggested Tatman should relocate to a larger setting.
"But we would lose the charm," he said. "It's got a sense of history; it has an aura about it."
So Tatman has begun to research the building's history to nominate it for the National Register of Historic Places, which would make the building eligible for state and federal tax credits to help reduce rehabilitation costs.
"Our goal is to preserve it so it will still be here after we're gone," Tatman said. "It is a Jefferson City landmark. Everyone in living memory knows about this place."
Tatman welcomes people to share their stories of the corner business.
"Any oral history would immensely help in the process," Tatman said.
Unsubstantiated rumors paint a colorful picture of the corner - housing a brothel upstairs in the early 1900s, an ongoing card game involving Missouri's top officials through the mid-century decades, and even the first drink as a free man for Frank James after being pardoned by Gov. Thomas Crittenden in 1882.
"History is full of holes," Tatman said.
"What seems significant to us now didn't seem so at the time."
Tapping into his master's degree in history, Tatman's search found the abstract first records a building there in 1891. However, the Sanborn Fire Insurance maps show a building on that lot since 1870.
And records at the Cole County Historical Society suggest a building on that corner first was erected in 1863 by Joseph Knaup as a blacksmith shop.
But the River Cliff subdivision, Bolivar to Clay streets and Main Street to the river bluff, didn't see development until 1870, Tatman said, when the area became known as "Rich Man's Hill," because a well-to-do judge was the first to build in the area.
The tavern opened as the West End Saloon in 1870 then became The Bridge Exchange when the Bolivar Street Bridge was opened in 1896 - but it was referred to as the First Chance, Last Chance in the vernacular, since Callaway County was a dry county and Cole was wet.
It became Pat's Place with new ownership in the 1940s and added the Irish flare in 1992. When Tatman took over in 2000, he changed the name to Paddy Malone's, drawing from his mother's heritage.
In the 1970s, this architectural piece of community history almost was lost to the Urban Renewal Capitol West Project, but former owners David and Victoria Patterson were able to preserve it.
"It gets exciting when you start going through these old documents and see this is more than bricks and mortar," Tatman said. "There were hands and lives involved; and it passed from family to family.
"You have generations of customers coming in here.
"It has become part of the community, not just (something) in the community."
A brief history
Key events and changes in the history of the Landmark structure:
1863 - Although unconfirmed, the cornerstone on the building says it was built in 1863 by J. Knaup. Former owner David Patterson discovered the cornerstone in the backyard during renovations in the 1970s and had it installed at the front corner, where wood had filled in a hole. Some records indicate the building first was used as a blacksmith shop.
1870 - Victor Frank opened West End Saloon, where he and his wife, Elizabeth, lived above the business with six children and a servant.
1891 - John Raithel expanded the building west, added the Mansard roof and filled out the second and third floors.
1896 - When the Bolivar Street Bridge was completed, the name changed to The Bridge Exchange. However, the locals referred to it as the First Chance, Last Chance in the vernacular, since Callaway County was a dry county and Cole was wet.
1940 - E.H. Pat and Della Conrad bought the business from the Raithel family, who had owned the business about 50 years, changing the name to Pat's Place.
1969 - Victoria Patterson, daughter of the Conrads, took over with her husband David. Urban Renewal soon threatened the historic tavern, but the Pattersons succeeded in preserving it.
1992 - With a native touch, John and Anne Erangey, who emigrated from Cork, Ireland, gave the corner an ethnic feel.
2000 - Allen Tatman and his wife, Marilee, changed the name to Paddy Malone's, in honor of his mother's heritage, but continued the Irish pub setting.