When travelers from the north side of the Missouri River were able to cross by bridge into Jefferson City, commerce was on the rise and the threat of relocating the Capitol to Sedalia declined.
The first Missouri River bridge in outstate Missouri was opened in 1896 at the north end of Bolivar Street.
Today, the remnant of that turnstyle, toll bridge has been transformed into the Rotary Centennial Park.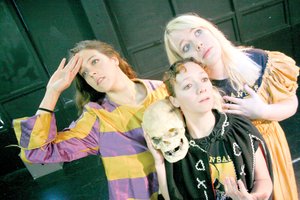 WHEREFORE ART THOU, MEN? - This year the Shakespeare Theatre goes to the ladies: Marin Miller, Tia Shearer and Core Clifford have the starring roles.
This month, the city Landmark location hosts a giant Christmas tree decked with lights and stars.
The four Rotary clubs in town cooperated to refurbish the dilapidated overlook area for the international service club's 100th anniversary.
The park, now part of the Jefferson City Parks, Recreation and Forestry Department system, has been a popular spot for flood-watchers, Lewis and Clark re-enactor viewing and train-spotting.
"This significant site is a reminder of the humble beginnings of the city and the progressive vision that has guided its growth," the park sign reads.
Bolivar Street led into the Millbottom neighborhood, so named because of the man mills which employed German immigrants in the area near the main boat landing at Wears Creek before the 1860s.
Two blocks from the new gateway to the Capital City, the Porth House was the residence and office of a prominent doctor, the Richmond Hill Grocery and the Westend Saloon, which is thought to be the oldest location that continues to serve spirits.
And in recent years, the Byrd-Haar House, a solid example of early German architecture, was relocated to Bolivar Street from Main Street. Those neighboring buildings also are city Landmarks.
An anonymous donor has helped place a double-story, Mayor's Christmas Tree in the center of the park for the last five years.
The donor recalled his childhood neighborhood as a close-knit, fun place to be. The Millbottom area was a place for children to play baseball, sled down the slopes in winter and learn character-building traits, the donor said.
A committee from the Commercial Club raised $225,000 to construct the first bridge, which opened Feb. 17, 1896.
As a toll bridge, it saw three ownerships until the state took over in 1932, and it became a free road.
The art deco pillars, which were installed in 1934 for $7,000, remain at the site, though the rotating bridge was removed when the current southbound bridge opened in 1955. (The northbound bridge was added in 1991.)
"For many years, since the old bridge was torn down in the mid-1950s, the area had become an eyesore and haven for all sorts of trash and graffiti," said Bill Lockwood, department director. Now, "it's a natural tie-in as riverfront development continues."