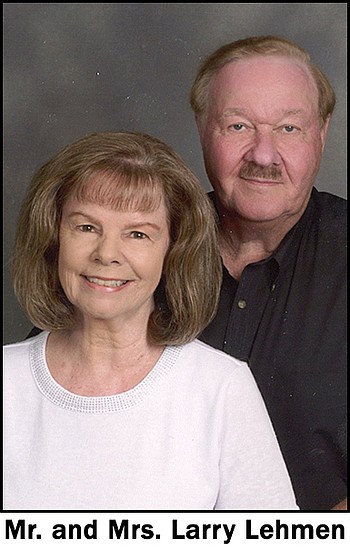 Anniversary
Larry Lehmen & Barbara Lehmen
May 12, 1973
Mr. and Mrs. Larry J. Lehmen, Jefferson City, celebrated their 50th wedding anniversary May 13 with a dinner at Canterbury Hill Winery, hosted by their children, and with a recent trip to Branson.
Larry J. Lehman and Barbara A. Buechter were married May 12, 1973, at St. Peter Catholic Church, Jefferson City. The Rev. Patrick Shortt officiated. They were attended by Betty Jaegers, Millie Schell, and Vic Buechter, all of Jefferson City; Martha Borgmeyer, deceased; Ron Lehmen, Perry; Jeanie Bax, St. Anthony; Noreen Luebbering, St. Thomas; Jerry Lehmen and Mike Neuner, both of Rich Fountain; and Gary. Boes, Westphalia.
Mr. and Mrs. Lehman have two children: Jeff Lehmen and his wife Morgan, Jefferson City; and Jill Dal Pozzo and her husband Mike, St. Peters. They also have three grandchildren: Chase Dal Pozzo, Morgan Dal Pozzo, and Bryce Dal Pozzo.