Helen Kuttenkuler
September 19, 2023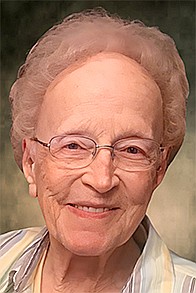 KUTTENKULER
Helen Louise Kuttenkuler, age 99, of Tipton, Mo., passed away Wednesday, September 13, 2023.
Helen was born May 30, 1924, in Syracuse, Mo., a daughter of Louis and Alwina (Knipp) Miller.
She was united in marriage to George Kuttenkuler on July 5, 1945, at St. Andrew Catholic Church in Tipton. George preceded her in death on January 2, 2003.
Helen was a loving wife, mother, grandmother, and great-grandmother. She was a member of St. Andrew Catholic Church and the Altar Society.
She enjoyed many years with her friends in their monthly Therapy (Coffee) Group. She was a devoted Catholic and selflessly served our Lord and others. Helen enjoyed visiting with everyone she met. She was a wonderful cook and baker and was well known for her famous angel food cake with caramel icing. She enjoyed watching the St. Louis Cardinals and spending time with her family, especially her grandchildren and great-grandchildren who lovingly called her "Grandma Helen."
Survivors include five children, Linda Welker (Perry) of Linn Creek, Mo., Ken Kuttenkuler (Debbie) of Sedalia, Mo., Keith Kuttenkuler (Rene) of Germantown, Tenn., Kevin Kuttenkuler (Joanie) of Tipton, Michele Higgins (Larry) of Tipton; 14 grandchildren; and 14 great-grandchildren.
In addition to her parents and husband, she was preceded in death by her siblings, Arnold Andrew Miller, Walter George Miller, Mary Martha Bookout, and Gladys Eleanor Scott; and three great-grandchildren, Josie and Eliana Miller and Mila Kuttenkuler.
Mass of Christian burial will be held at 11:00 a.m. Saturday, September 23, 2023, at St. Andrew Catholic Church, Tipton, Mo., with Father Anthony Viviano officiating. Prayers of the Holy Rosary will begin at 9:30 a.m. followed by visitation until service time.
Burial will follow at St. Andrew Catholic Cemetery in Tipton.
Pallbearers and Honorary Pallbearers will be Jennifer Miller, Jill Manley, Kathy Richards, Lance Kuttenkuler, Kimberly Scheidt, Kendra Kuttenkuler, Tyler Higgins, C.K. Harley, Brice Kuttenkuler, Seth Kuttenkuler, Abby Higgins, and McKenzie Higgins.
Memorial contributions may be directed to the St. Andrew Catholic Church.
Arrangements have been entrusted into the care of Meisenheimer-Page-Dady Funeral Home, Tipton, Mo.