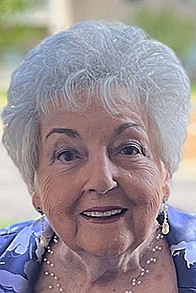 PERREY
Lola "Peggy" Perrey, 90, of Jefferson City, passed away peacefully on Tuesday, November 14, 2023, with her beloved daughters by her side, after a wonderful life well lived.
Peggy, a nickname that was given to her as a child, was born on August 16, 1933, in the New Bloomfield area to Camille Senevey and Mary Crowe (Busen) Senevey.
After the family moved out of state, Peggy later returned to Tebbetts to care for a sister who was in poor health. It was at that time she met Ralph Perrey. They were married in Harrison, Arkansas on July 24, 1950, and settled in Holts Summit before moving to Jefferson City. Together they welcomed two daughters, Janet and Brenda. Ralph and Peggy were blessed to share nearly 68 years together before his death on March 1, 2018.
After several other jobs through the years, Peggy's last, long-time career was with Farmer Companies as an office manager/property manager. She took pride in doing her very best wherever she worked.
Peggy was beautiful, kind, loving, and was loved by many. Family was always the cornerstone of her life and she delighted in her daughters, her grandson and her great-grandson. Cooking was her love language. She entertained family and friends and loved to cook for them and made them feel warm and loved. Her Thanksgiving meal was the best ever. She also enjoyed singing, dancing and listening to country music, and if that was with family and friends, all the better. She loved all animals but especially the dogs and cats that came into her life and stole her heart.
Upon Peggy's move to Primrose Retirement Community in February 2022, she was asked if she preferred to go by the name Peggy or Lola. She decided to use her given name and was then known at Primrose as Lola. She reconnected with past acquaintances and made many new friends. It was there that she met Jerry Scarlett. The two entered into a committed relationship on September 3, 2022. The Primrose executive director and staff celebrated them with a wonderful ceremony attended by many residents, family members and friends.
Peggy is survived by her two daughters, Janet Perrey Tiberghien Martin, Jefferson City, and Brenda Perrey Feind; her husband, Dan, Battlefield; her grandson, Brice Tiberghien, his wife, Jodie, and her darling great-grandson, Dain Tiberghien, St. Louis; her brother, Ron Senevey, his wife Janice, Oregon City, Ore.; many adored nieces and nephews; and her "adopted daughters" who were special to her and Ralph.
Peggy was preceded in death by her parents; her husband, Ralph; 10 siblings: Bonnie Senevey Brandt, Louise Senevey Crowe, Paul Senevey, Johnny Senevey, Hugo Busen, Dorothy Busen Biedron, William Busen, Wilma Busen Schwendeman, Virginia Busen Bockover and Genevieve Busen Schatz; and many treasured nieces and nephews. It brings comfort knowing they are all reunited and the joy she must be feeling.
The family would like to give a special thanks to those at Primrose Retirement Community and Hospice Compassus for their kindness and the care they provided during the last few months. Many thanks also go out to Dr. Benjamin Cook and the other medical providers at JCMG, as well as SSM St. Mary's Hospital, for their care and compassion at times of need.
A visitation will be held on Tuesday, November 21, 2023, from 12:00 p.m. – 1:00 p.m. at Houser-Millard Funeral Directors with the funeral services at 1:00 p.m., with Chaplain Russ Pflasterer officiating. Interment will follow at Hawthorn Memorial Gardens.
In lieu of flowers, memorial contributions are suggested to the People Helping Paws Cat Rescue, P.O. Box 6971, Jefferson City, MO 65102.
Arrangements are under the direction of HOUSER-MILLARD Funeral Directors, 2613 West Main Street, Jefferson City, MO 65109, (573) 636-3838.
Condolences may be left online for the family at www.millardfamilychapels.com.
Published November 19, 2023