Milda A. Hagemeyer
April 15, 2020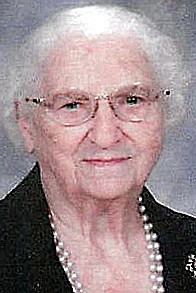 Milda A. Hagemeyer, 104, passed away on Sunday, April 12, 2020, at the California Care Center, California, Mo.
She was born on February 18, 1916, the daughter of John and Katherine (Horak) Strobel, both of whom preceded her in death.
Milda was united in marriage on August 9, 1942, at St. Paul's Lutheran Church to Oscar J. Hagemeyer who preceded her in death on April 10, 2003.
She attended Centertown Public School in Centertown, Mo. and St. Paul's Lutheran School, California, Mo. Milda was a member of St. Paul's Lutheran Church and taught Sunday School for many years. She worked at California Manufacturing for many years. She loved working with flowers in her outside garden and flowers inside her home, machine quilting, which she made quilts for her family members and quilted for several people, and she loved spending time with her family.
Milda is survived by two sons, Wayne (Karen) Hagemeyer, California, Mo. and James (Mary) Hagemeyer New Bloomfield, Mo.; six grandchildren, Christina (Larry J.) Gish, Milisa Hagemeyer, Angela (Dwight) Christian, Sara (Charles) Turner, Jeremy (Sandy) Hagemeyer and Joshua (Kelley) Hagemeyer; eight great-grandchildren, Larry W. Gish, Joseph Gish, Kodie Gish, Brandon Christian, Abigail Christian, Kyle Hagemeyer, Henry Hagemeyer, Lucille Hagemeyer; two step-great- grandchildren, Charlie Turner and Samuel Turner; four great-great-grandchildren, Elsie Gish, Alysia Gish, Kendrick Gish, Cataleya Lewis, and several nieces and nephews.
She was also preceded in death by three brothers, Clarence, Walter, and William Strobel, three sisters, Flora Kuester, Louisa Bleich, and Irene Friedmeyer and a daughter-in-law, Nila Hagemeyer.
Private family Visitation and Service will be held at St. Paul's Lutheran Church with Rev. Evandro Kooper officiating. Private family graveside service will be held at St. Paul's Lutheran Cemetery. A public memorial service will be announced later.
In lieu of flowers, the family requests memorials to be given to St. Paul's Lutheran Church Radio Ministry or St. Paul's Lutheran Cemetery.
Online messages to the family may be contributed at www.windmillridgefuneralservice.com.