Shirley Singleton
January 11, 2015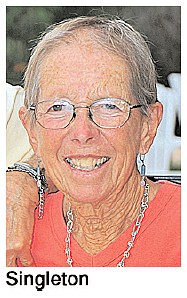 Shirley Singleton, age 85, passed away on Saturday, December 27, 2014, at Tucson Medical Center in Tucson, Ariz., from complications following a fall.
Shirley was born October 15, 1929, to Harry and Ina Carpenter in Kansas City, Mo.
Shirley's husband Thomas E. (Ed) Singleton died in 2010 after a short illness. Shirley and Ed moved to Jefferson City, Mo. in 1954 and remained there until Ed's retirement in 1984. Ed spent his career working for the MO Department of Health and Welfare, and Shirley was a kindergarten teacher, first at West School and then for many years at East School. They moved to Tucson, Ariz. in 1985 to be near daughter, Laura, and grandson, Jonathan, and because "we never want to shovel snow again."
Following their move to Tucson in 1985, Shirley immediately began looking for opportunities to volunteer in the church and community. She and her husband were docents at the Arizona-Sonora Desert Museum, Ed for 23 years and Shirley for 27 years. Shirley, a 65 year member of P.E.O., was an active member of AZ Chapter AE. She was also an active member of St. Mark's Presbyterian Church.
Shirley is survived by her son, Thomas "Tom" E. Singleton Jr. (Denise) of Eustis, Fla.; daughter, Laura N. Benchik (Pat) of Tucson, Ariz.; grandsons, Jonathan T. McClain (Trisha) of Albuquerque, N.M., Mackenzie J. Singleton of Orlando, Fla., and Andrew T. Singleton (Venetia) of Boston, Mass.; five great-grandchildren; two nieces and a nephew; her brother, Richard A. Carpenter (Dick), of Charlottesville, Va.; and more friends than can be counted.
A Celebration of Life was Saturday, January 3, 2015 at St. Mark's
Presbyterian Church, Tucson, Ariz. Contact Laura Benchik at 520-490-2940 or 4334 N. Tortolita Rd., Tucson, AZ 85745 with questions and to share memories of Shirley.
Memorials preferred to ASDM, 2021 N. Kinney Rd., Tucson, AZ 85743 and St. Mark's Presbyterian Church, 3809 E. Third St., Tucson, AZ 85716. Arrangements by BRING'S Memorial Chapel.