Joan Henley O'Neall
July 28, 2013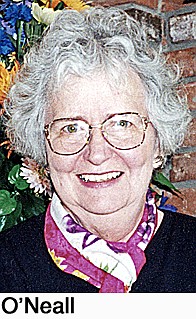 Joan Henley O'Neall, 82, of Denver, Colorado, died Saturday, July 20, 2013, in Denver, Colorado.
Joan was born December 18, 1930, to Marcus Henley and Alice Dorl Henley in Kansas City, Missouri. Joan was one of nine children. As a young child, her family moved to Jefferson City, Missouri where Joan was raised on a small farm on Tanner Bridge Rd.
Early in her life, Joan showed a strong passion for learning. She spent her formative years educated in a "one room" school house and later graduated valedictorian of her high school and junior college in Jefferson City. She then attended the University of Missouri with a major in Mathematics and a minor in Physics.
Joan took her first job at McDonnell Corporation in St. Louis where she was one of two women among a sea of male engineers who designed prototype bombers and experimental drone aircraft.
She was fiercely independent, and in 1955, Joan left Missouri and came west to Colorado. She soon met and married Kelly O'Neall Jr. He preceded her in death. Joan and Kelly raised three children, Cris (Emily), Jay (Dianna) and Allison (Scott).
During her time as a homemaker, Joan also volunteered for the Salvation Army in Denver. She served on the Women's Auxiliary for 46 years, including a term as Auxiliary President, and loved preparing dolls for the annual Doll Tea up until the day she died. Joan taught high level high school math at Denver South High School, and as a substitute teacher for many years in the Denver Public Schools.
Her love of mathematics gained her the reputation of being the only substitute in the district who could teach Calculus. She always loved a good math problem, and teaching school allowed her to practice one of her favorite pastimes. Joan also enjoyed travel and spending time in Grand Lake, Colorado where she would nurture the dusty soil so she might grow flowers, another favorite hobby.
Other survivors include: four sisters, Mary Fry, Anderson, Ind.; Shirley Ferguson, Scottsdale, Ariz.; Kathryn Henley and Luella Alley, both of Jefferson City; and one brother, Herbert Henley of Jefferson City; nieces and nephews: Owen and Bob Fry, Anderson Ind.; Tom Henley, Janet Roark, Julia Cassmeyer, Lori Henley and Mark Henley, all of Jefferson City. Joan was blessed with nine grandchildren and called them the Jewels in her Crown of Life.
She was dearly loved by all and her wisdom, kindness, and unending generosity will be missed. She was preceded in death by one sister, Jean Henley; two brothers, Earl Henley and Harold Henley; and one nephew, Marvin Fry.
A memorial service will be held at Fairmount Cemetery on Monday, July 29, at 1:00 p.m. Donations in her memory may be made to the Salvation Army.