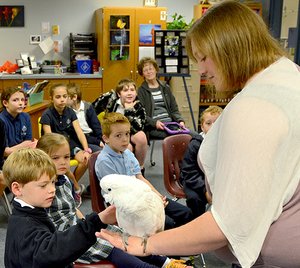 Submitted photo Little Rock Zoo zookeeper and National Park College student Summer Holt, right, allows kindergartener Palmer Dunkel to pet Dakota, an umbrella cockatoo, during a recent visit to St. John's Catholic School as Corley Cate and Isaac Carson await their turn. Holt also brought two snakes for students to see. Onlooking students, from left, are third-graders Joy Victory, Avery Houston, Christian Westbrook and third-grade teacher Darlene Pavlovich.
Despite bringing years of experience to their new positions, two department leaders are happy accepting the new challenges they're facing.
The Missouri Department of Natural Resources recently promoted Mike Sutherland to be deputy department director and David Kelly to take Sutherland's previous position as State Parks director.
Together, the two have nearly 40 years of experience with DNR and a lot of passion for the State Parks system.
With roughly two weeks under his belt, Kelly said he's adjusting well to his new position leading the State Parks Division.
Kelly, who has been with the parks system for about 35 years, said his new role has a lot of familiar aspects mixed with some new challenges.
Previously, he was the Division of State Parks deputy director of operations and oversaw the state's three regional offices in charge of all 92 state parks and historic sites.
He also oversaw the visitor and business services programs.
He said the division's resources side - which includes natural resources, cultural resources, planning and development program and the state historic preservation office - was under a different deputy division director, so they're a bit new to him.
"I've had some experience at different times dealing with the different programs on the other side, but I don't have near as much experience as I do on the operations side," Kelly said. "So just trying to understand more about the resources side of the division, and everything that goes into it, will be probably the biggest challenge for me moving forward because I've been on the operations side pretty much my whole career."
Sutherland said he's settling into his new, busier role well also.
"I'm working on more topics now, working with two more divisions and so that's an exciting opportunity, and I'm really looking forward to it, but it is making the schedule a little bit more full," Sutherland said.
He said transitioning from the State Parks division director to a deputy department director role requires some learning as well.
In addition to still working with the Division of State Parks, Sutherland will be working with DNR's Division of Energy and the Missouri Geological Survey.
Sutherland said he's fortunate to oversee divisions run by experienced leaders, which makes his job easier.
"I'm going to always be there to support Missouri State Parks coming from that division, but certainly have all the confidence in the world that David's going to be great at leading the division," Sutherland said.
Through budget, strategy and stakeholder discussions, Sutherland said his goal is to support division directors by providing the resources they need.
Sutherland said his long-term goal is to ensure the department supports and preserves Missouri's natural resources while engaging communities and stakeholders through partnerships.
Between the Department of Natural Resources five-year plan and multiple projects, Kelly said he's confident in the direction the Division of Parks is heading.
Kelly said he plans to follow the department's five-year plan closely and is excited to start working on major improvement projects at the state parks.
Last legislative session, the General Assembly approved revenue bonds to fund 28 projects at 22 state parks, which Kelly said will be his priority for the next several months.
The estimated $68 million projects are mostly centered around improving campground amenities and developing more lodging cabins in state parks, with just one project designed to provide electricity to a cave.
The department has heard for several years that campgrounds need to be upgraded to include better electric supply and the addition of sewer and water hookups.
All the projects are revenue- producing, Kelly said, so the plan is for the revenue they generate to be used to pay back $60 million in revenue bonds the state approved to cover the cost. The whole process will take about 20 years to pay off.
"I'm pretty excited about that challenge," Kelly said.
The department had a lengthy construction phase he was involved with when he first joined as a special events coordinator, Kelly said, but now he'll get to see the other end as division director.
Kelly said he's sometimes surprised by how big and far- reaching the department is.
Missouri State Parks attract about 20 million visitors each year, with more than 1 million spending the night yearly.
"The challenge of inviting those folks in and making sure they're safe and having a good experience is what we do in state parks, and it's just pretty amazing when you sit back and look at the numbers sometimes," Kelly said.
Part of the challenge is also addressing complaints about the parks system.
The Department of Natural Resources came under fire for the removal of an LGBTQ history exhibit from the Capitol as Kelly and Sutherland began their new positions at the beginning of the month.
The exhibit, "Making History: Kansas City and the Rise of Gay Rights," was moved to the Lohman Building by the Parks Department after conservative legislators complained about it being in the Capitol.
Many Missouri Democrats took issue with its removal.
"(Missouri State Parks), one of the most trusted and beloved state agencies, felt it was easier for them to bend to bigotry than it was for them to have a backbone for a marginalized group of people," state Sen. Greg Razer said. "It's really that simple."
After citing a rule that exhibits must be approved by the state Board of Public Buildings, which hasn't been done since Parson has taken office, the state hasn't taken further action on the exhibit.
Sutherland said there are no updates on the Missouri State Museum or the LGBTQ history exhibit from the department's perspective.
State Democratic lawmakers said they will be continuing the conversation.
Sutherland said he wants to carry over his philosophy from running the State Parks Division, which was to focus on supporting team members.
Sutherland said he's also confident in the leadership of Dru Buntin, who was recently appointed DNR director by Gov. Mike Parson.
"Having leadership that is familiar with the department and the divisions is good, so I think that our transitions will be smooth," Sutherland said. "I think that we really want to just support and continue to enhance and build upon what Dru is building."
Kelly said the upper-level leadership is what really pulled him into his new position because they have a deep commitment to state parks and a productive working relationship.
"We've got a good team, and I don't see any major changes needed," Kelly said. "We'll just keep working and supporting our staff and focus on our mission."