Missourians may not be ready for REAL ID requirements.
Passed in 2005 in response to the 9/11 terror attacks, REAL ID is intended to standardize identification because each state has different standards for a driver's license or identification card.
The law is scheduled to go into effect in 2023, but after nearly two decades and multiple delays, many people, particularly women who changed their names because they got married, struggle to meet requirements to receive the new identification. And they are finding little support from governments requiring identifications.
Five trips to the licensing office
At 73, Jane Lester, of Jefferson City, wanted to comply with the law, but only received a REAL ID after several months and five trips to the licensing office.
Lester brought her driver's license, birth certificate and marriage certificate to the licensing office, but was told her marriage certificate couldn't be accepted because it wasn't signed by the correct clerk.
Lester, who has been married for almost 50 years, then tried the Motor Vehicle Bureau in the Truman State Office Building, where she was denied again and told to get a new copy of her marriage certificate from the state of Florida.
After receiving a new copy, Lester tried a third time but was told her birth certificate wouldn't be accepted.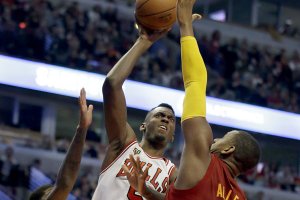 Chicago Bulls forward Bobby Portis, center, shoots against Indiana Pacers forward Paul George, left, and forward/center Lavoy Allen during the second half of an NBA basketball game Wednesday, Dec. 30, 2015, in Chicago. The Bulls won 102-100 in overtime. (AP Photo/Nam Y. Huh)
Lester had a certified birth certificate from Vermont, but her parents lived on the border and she was born in Massachusetts. She was told to get a new birth certificate from Massachusetts.
Lester said the Department of Motor Vehicles (DMV) workers asked her at least three times if she really needed the REAL ID and suggested she apply for a regular state ID instead.
"That was the only time that I got upset, and I did say, 'That's pretty insulting,'" she said.
When asked about the suggestion that Lester received at the DMV, Anne Marie Moy, Missouri Department of Revenue director of strategy and communications, said DOR, which oversees Missouri's DMVs, is actively encouraging its customers to get REAL IDs.
But instead of getting a new birth certificate, Lester decided to renew her expired passport card to use that as a form of ID. She took her new passport card to the DMV, but it wasn't recognized by the federal computer system. She then waited 30 days, didn't make any changes before trying again and it worked.
"At a certain age, you kind of feel like your ID is kind of established," Lester said. "It was very frustrating and I think kind of demeaning. It kind of seems like it cancels you out or something. I don't know, just very discouraging."
Lester didn't have a particular reason for needing a REAL ID, but got one to travel and stay up to date with federal regulations.
Is a REAL ID necessary?
Starting May 3, 2023, a REAL ID will be required to board domestic flights at all federally regulated airports and to access federal facilities and nuclear power plants.
If somebody has another form of ID that meets federal requirements, like a U.S. passport or passport card, a REAL ID isn't necessary.
The REAL ID requirements were set to go into effect Oct. 1 of this year, but the U.S. Department of Homeland Security announced in April it was extending the deadline by 19 months.
Yet, Missourians are still confused about what is required to get a REAL ID.
According to the act, states are required to see a photo ID document or document that includes an individual's full legal name and date of birth, additional documentation showing the person's date of birth, Social Security account number or verification the individual isn't eligible for a Social Security number, and documentation showing the individual's name and address before issuing a REAL ID.
Like standard licenses and ID cards, REAL IDs feature the holder's full legal name, date of birth, gender, driver's license or identification card number, address, photograph and signature.
REAL IDs also have physical security features designed to prevent tampering and duplication, and have common machine- readable technology with standardized data elements.
The REAL ID Act prevents the federal government from accepting IDs that don't meet its new standards, which incorporate anti-counterfeiting technology, fraud prevention measures and record checks to confirm the individual's identity.
The act also requires states to employ technology that can capture digital images for storage, retain paper copies of source documents for at least seven years or digital images of source documents for at least 10 years, capture facial images of applicants and establish a procedure to confirm a person's information when renewing their license, among other measures.
Moy said DOR is promoting the REAL ID through its website and social media.
Posters have also been provided to all license offices, exam stations and the nine primary airports around the state, she said.
"We have also done media outreach and press conferences at local airports," Moy said. "We anticipate employing similar proactive strategies to foster awareness moving forward."
'Biased against women'
While a year and a half might seem far away, 78 percent of Missourians haven't yet signed up for a REAL ID and some, particularly women, are finding the process to be long, arduous and discriminatory.
Jacque Sample, a 46-year-old occupational therapist from Columbia, said she was denied a REAL ID in September because she didn't have a copy of her marriage certificate to indicate her name change.
Unlike Lester, Sample was trying to get a REAL ID because she will begin traveling out of the state for her job.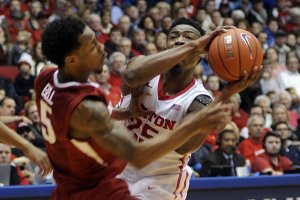 Dayton's Kendall Pollard goes to the basket against Arkansas during an NCAA college basketball game Wednesday, Dec. 30, 2015, in Dayton, Ohio. (Marc Pendleton/Dayton Daily News via AP)
Sample, who brought her driver's license, birth certificate, a utility bill and additional documentation to renew her driver's license, said the federal requirements force many women to produce extra information that isn't always handy, like marriage certificates and divorce papers.
"It just kind of dawned on me at that point that there are more restrictions on women, essentially, getting a REAL ID than there are for men," Sample said. "It makes it very biased against women to be able to get this documentation.
"If my husband and I were to go there together to get a REAL ID, he would have walked out with one, and I would not have," she added.
Sample elected to get the non-compliant Missouri driver's license and said she is unsure about getting a REAL ID at all after her experience in September.
She said the process might be made easier with more communication about what documentation is required.
When a customer reports concerns related to obtaining a REAL ID, Moy said DOR provides assistance on an individual basis.
The assistance often includes directing customers to other government agencies to obtain necessary documents or to DOR's REAL ID interactive guide, which lists what documents are required based on how users respond to a series of questions.
Optional in Missouri for now
Jackie Coakley, a manager at Central Travel, said she's been hearing from some clients attempting to get the REAL ID to travel that the list of required documents is too long.
"It is pretty intensive, all the information they require," she said.
Coakley said Central Travel has been encouraging clients to get the REAL ID when they renew their driver's license or as soon as possible.
With the enforcement deadline pushed back, Coakley said she's expecting more people to wait until the last minute to get a REAL ID.
Missouri fully implemented its REAL ID program in 2019 and was declared compliant by the DHS in April 2019.
All U.S. states became compliant with the law by Sept. 10, 2020.
DOR has issued a total of 1,302,628 REAL IDs since 2019, and the distribution of IDs between men and women has been fairly even.
In 2019, DOR issued 325,530 REAL IDs to Missourians, 50.1 percent of which were male and 49.9 percent were female.
The number of REAL IDs the state issued increased by 490,502 in 2020, with the breakdown between men and women receiving the ID remaining the same.
So far this year, DOR has issued more than 486,596 REAL IDs - 48.8 percent have been to males and 51.2 percent have gone to females.
Because obtaining a REAL ID is optional in Missouri, Moy said the department doesn't have a target number to issue.
The state is still offering its traditional driver's license, but that can't be used for domestic airline travel or to enter federal buildings and nuclear power plants after May 3, 2023.
When preparing fiscal responses for the Legislature, however, the department estimated an uptake of 60 percent to calculate its costs associated with verification.
Currently, roughly 22 percent of the state - a little more than one in five Missourians - has a REAL ID.
Missing documentation challenges
A major factor in the slow uptake is that the new documentation requirements present issues for Missourians who don't know to bring or simply don't have those records.
David Trammell, youth program supervisor with Central Missouri Foster Care & Adoption Association, said required documentation is a major hurdle in assisting foster youth and the organization's clients get a REAL ID.
Trammell said roughly 90 percent of the youth that CMFCAA takes in are missing some form of legal documentation.
Birth certificates and proof of state residency in particular are primary struggles, he said.
"Some of these youth are transient in nature and are often homeless and don't have addresses or utility bills in their name, which leaves them settling for just a state ID," Trammell said.
Upon intake, CMFCAA asks clients if they have their legal documents and works with them to acquire anything they don't have.
Trammell said obtaining a birth certificate is relatively easy if the individual is born in Missouri, but people born in other states have to use an online system that can take up to 21 days and requires a valid state ID.
"When you think about it, you're asking me for a state ID when I'm trying to get a birth certificate to get a state ID, so that, most of the time, leads to a dead end unless we're able to actually go to the state of birth to request it or follow up with Children's Division to see if they have one on file," Trammell said.
Acquiring a copy of a Social Security card also requires an individual to mail in a valid state ID, he said.
Trammell said the process can be frustrating, but it motivates him to be more creative in tracking down documentation, like contacting states directly to explain the circumstances, but it doesn't always work.
Trammell said many of the clients he works with determine they don't need the new REAL ID.
"Some of them, they're more focused on the right here and right now as opposed to what may come up six months down the line or further than that," he said.