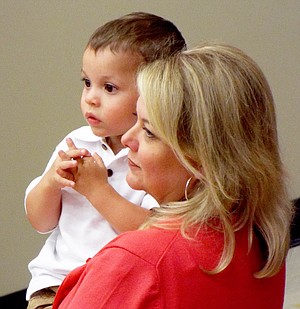 All eyes were on the graduates as they crossed the stage and received their diplomas on Saturday night. All eyes were on the graduates as they crossed the stage and received their diplomas on Saturday night.
Throughout our multi-decade law-enforcement careers, we've seen our communities make a lot of progress when it comes to public safety. We've learned important lessons about what works and what doesn't, including the lesson that many of the factors that create unsafe situations take root when a person is just a child.
That reality led to a new focus on the hours after school lets out. That focus has worked: since 2000, juvenile arrest rates have decreased by 70 percent nationwide, partially due to the emphasis on increased access to high-quality after-school programs. But we need to do more to boost access, as the unmet need for this programming impacts over a quarter of a million young people in Missouri.
As a new research brief from the national law-enforcement leader membership group Fight Crime: Invest in Kids shows, the hours after school lets out each weekday are still the "prime time" for juvenile crime, as our young people are more likely to be involved in - or be a victim of - crime from 2-6 p.m.
While the progress that we've made in keeping children safer is encouraging, this persistent peak reveals additional investments in high-quality after-school activities can still have a disproportionately positive impact in improving the lives and safety of youngsters. These programs provide supportive, stable, and enriching environments with caring adults that keep children and youth safe while supporting their academic success and socio-emotional development.
The most effective after-school programs incorporate sequenced, active, focused, and explicit (SAFE) activities that complement the student's grade-level instruction. They use a connected and coordinated set of activities, have active forms of learning, target specific personal and social skills, and have at least one component devoted to developing these skills. Research also shows high-quality after-school activities contribute to positive outcomes such as improved attendance, improved classroom behavior, better academic outcomes, and increased graduation rates.
We've seen first-hand just how impactful one type of these programs can be here in the Springfield area. Greene County's Getting Involved for Today's Students (GIFTS) Afterschool Program helps prevent formal involvement with the juvenile court system, ultimately reducing recidivism for youth involved in less serious offenses like truancy.
Each year, the Greene County Juvenile Office receives 1,400-1,600 referrals for delinquency violations and status offenses. The Greene County Juvenile Justice Center has created a series of diversionary programs for youth that help keep these young people on a better path.
Students court-ordered to attend the Green County Youth Academy, a community-based treatment program, will attend school at GCYA during the day and have the opportunity to participate in the GIFTS Afterschool Program after school. Program components like Girls Empowering Minds and Spirits, which focuses on building strong and confident girls, and the Homework Assistance Program, which provides tutoring and additional enrichment opportunities, promote positive youth development and community engagement.
The ability of high-quality after-school programming to help lower crime, improve behavior, and enrich academic success is also especially critical during the COVID-19 pandemic. Out-of-school time will be an essential supplement that bolsters educational and care flexibility as schools reopen. These programs will help children catch up, be productive, and stay out of trouble.
Unfortunately, Missouri currently has no state funding for after school. Only a small stream of federal funds supports the programs in our state. This is a major concern, because, while nearly 140,000 Missouri students are currently enrolled in after-school programs, the unmet need for after-school programming leaves more than 260,000 students waiting to enroll in after school, of which almost 250,000 are alone and unsupervised in the after-school hours.
Let's change that. We can build upon a two-decade track record of progress in reducing juvenile crime by making a deeper commitment to high-quality after-school programming. Our state should begin funding these programs that help keep children away from crime while building their academic and social skills.
Chief of Police Paul Williams, Springfield Police Department, and Sheriff Jim Arnott, Greene County Sheriff's Office, are members of Fight Crime: Invest in Kids.