Photo Gallery
"Draw Me A Story" Reception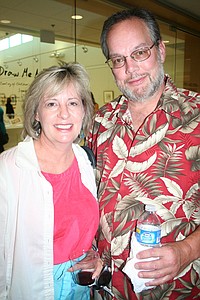 The exhibit entitled "Draw Me A Story" features work from renowned children's illustrators with many recognizable pieces on display at the Laman Library. The exhibit will be open until August 11.
More than a hundred people protested a bill Saturday at the Missouri Capitol that opposes "Drag Queen Story Hour."
State Rep. Ben Baker, R-Neosho, said Drag Queen Story Hour prompted him to file House Bill 2044, the Parental Oversight of Public Libraries bill, which would require each library district to create parental review boards that would make final decisions on whether material was age-inappropriate. Inappropriate material would then be moved so it could not be accessed by minors.
Librarians who refuse to do so could be convicted of a class B misdemeanor, required to pay a $500 fine and sentenced up to a year in jail.
The rally Saturday was organized by drag queens. More than 400 people responded "going" to the Facebook event; 1,400 responded that they were interested.
Story continues below video
Drag queen Autumn Equinox, whose name outside of drag is Connor Thompson, read a story to children at the rally. Autumn runs a drag queen storytime event at Skylark Bookstore in Columbia.
"Kids need to be given the opportunity to see what it's like outside of the binaries of gender and outside of the concepts that have been forced on us societedly, so that's why I think it's important," Autumn said.
Vote Common Good, an anti-Trump evangelical organization, attended the rally in support of the protesters as part of a stop on its nationwide bus tour aimed at "mobilizing voters of faith to help defeat President Donald Trump in November," according to the organization.
Vote Common Good Executive Director Doug Pagitt, a pastor at Solomon's Porch church in Minneapolis, Minnesota, said he wants more Christians to express that the religion is about love - not hate.
"We would like for people of Christian religious faith telling a faith, hope and love narrative to speak up louder and not have people who have perverted that message to something hateful to be the ones that have a loud voice," he said.
Vote Common Good member Genesis Be, from Biloxi, Mississippi, said Christianity is about love, compassion and inclusiveness, and she feels it has been hijacked.
"Open your mind, and open your heart, and don't react with fear," she said. "That's how cowards react. It's not how powerful people react. It's not how loving people react."
Be, who founded an organization called People Not Things, said people are more than the labels they ascribe to.
"Some of the most brilliant, compassionate, intelligent, open and artistic people that I know are gender-bending, non-conforming, non-binary people," she said.
Representatives from Parosal Patrol, which shields children from hate speech at protests, were also in attendance, planning to block rallygoers from the Westboro Baptist Church, which said it was sending members to the rally. However, members from the church known for its anti-LGBTQ rhetoric kept their distance from the rally.
A group of other counter-protesters were present for about 10 minutes outside the Capitol.
Parosal Patrol co-founder Eli Bazan said he opposes this the bill, calling it censorship. He added Drag Queen Story Hour is important because it teaches children it's OK to be themselves.
"Representation matters, and we will not go away," Bazan said.
In support of Baker's bill, Saturday also saw a prayer walk inside the Capitol led by Missouri Mass Resistance, an organization that engages the public to "fight against the gay community's agenda," according to its Facebook group.
During the prayer walk, members distributed prayer cards for people to write prayers on and slide under legislators' office doors in support of the bill. About 20 people participated.
Missouri Mass Resistance Chairwoman Jeannine Huskey said she considers events like Drag Queen Story Hour to be adult content, and she thinks parents should decide what is and isn't permitted at libraries.
"They rate movies to protect children, but we're not using the same protections there as we are with the theaters," she said. "We're not protecting the children in the schools or the libraries."
Bill sponsor Baker addressed the group and other bill supporters inside the Capitol Rotunda; he said he doesn't consider his bill to be censorship.
"I call it protecting our children," he added.
The American Library Association website says "libraries should not limit the selection and development of library resources simply because minors will have access to them." Baker said he believes this policy is a problem.
He said he thanks the protesters for being engaged in the political process.
"I disagree with their actions and their lifestyle, but I love them as human beings. I want the best for them, and I truly care about their well being, and I hope we can have a productive conversation and come to an agreement," Baker said.
Natalie Newville, Missouri River Regional Library marketing manager, said it is important to the library staff that there is a wide range of topics in the library collection, and it would be difficult to create a parental review board that decides which materials to keep.
"I have the utmost respect for our librarians and their degree and the education that they have, and I fully trust that they're able to cultivate a collection that is great for our community," Newville said.
Missouri River Regional Library allows people to file reconsideration request forms for library materials. She said the library does not receive request reconsideration forms often, but it does occasionally - typically with gory movies. She said she hasn't heard of anybody filing a reconsideration request on an LGBTQ topic.
The library's Collection Development Policy states "a work will not be excluded from the library's collection solely because it represents a particular aspect of life, because of frankness of expression or because it is controversial."