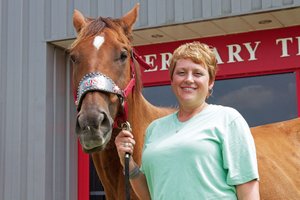 Photo by Angela Spencer
Kristie Coley, program director for the Veterinary Technology Program at Arkansas State University-Beebe, stands with Goose, one of the program's horses.
A simple search looking for investment properties in Mid-Missouri landed Aaron and Erin Clark in a seven-month-long renovation project to a 5,000-square-foot, century-old home.
"My wife's family lives in California, Missouri, and we wanted to move closer to family, especially for our children (7-year-old Raena and 2-year-old Titus)," said Aaron, who is a professional photographer and owner of Boy Aaron Photography, and noted his wife also works from home in the alternative/personal shopping field. "We were looking for investment properties and saw this home on the internet. With this house, we thought we might be able to make this our home."
The 2 1/2-story Foursquare residence sat at 500 E. Miller St. on the corner lot near Simonsen 9th Grade Center in Jefferson City. When they first saw the home, it was completely gutted down to the studs from the previous owner, seeing some work that had been done and attempts to change the layout. Yet, the couple's interest was piqued.
"We saw the potential in it we knew it needed a lot of work, but we were excited to get our hands on it," Aaron said.
In August 2017, the couple purchased the home, completely renovated and restored it, and now join neighbors in being a part of the Hobo Hill Historic District and a few who have earned the final 2018 Golden Hammer Award from the Historic City of Jefferson.
"You are your own worst critic. I think there is so much we can do; there are other homes that are better than this one," the September award recipient said. "But we are very honored. Our hard work is being recognized and they are recognizing the history of this home."
According to the Cole County Assessor's Office, Adolph and Beulah Brandenberger built the house at 500 E. Miller in 1910, which is only a couple of blocks from the Hugh Stephens' home that is now Lincoln University's president's house. Born in St. Louis in 1861, Adolph Brandenberger bought a property at 130 High St. in 1889, running a Rexall drugstore. He and his family - including his first wife, Lillie, and daughter Adelaide - lived above the store. In 1902, Adolph married again to Beulah Jane Edom, according to information from Laura Ward, Golden Hammer committee chairman for the Historic City of Jefferson. They had two children.
By 1913, the Brandenberger family moved to 500 E. Miller before selling the property to William C. and Pauline Dallmeyer Hoefer in 1922. According to a Hoefer's obituary published in the Nov. 11, 1936, Daily Capital News, Col. Hoefer was a widely known Jefferson City insurance man, singer and civic leader, who "united two of the city's most prominent families" when marrying Pauline Dallmeyer on April 25, 1906.
After William died at 57 in 1936, Pauline continued to live at 500 E. Miller for 40 years, along with William's daughter Anne, who married Joe West. Anne and Joe sold the property to Lee and Ila Faye Jordan in 1962, who then sold it to Anthony and Virginia Lutz in 1964. The Lutzs had 11 children, 38 grandchildren and 11 great-grandchildren, however, they sold the home three years after they purchased it to Lincoln University instructor Charlie Cook and his wife, Jacqueline, in 1967. After Charlie's death in 1969, Jacqueline and her two children continued to live in the home, staying there for 29 years.
In 1997, Jacqueline sold the property to Brice E.J. and Lori C. Imsland. According to Ward's information, Brice and Daniel Imsland lived in the home off and on from 1999-2017. Santiago Serrano and Paola Coronel, husband and wife, then acquired the property sometime between 2014-17, selling it to the Clarks last year.
Even though the Clarks didn't know the extensive history of the Miller Street home, they wanted to "bring history back" through their renovation.
"We liked the feel of it and wanted to keep the originality it had. Our vision was to make it as original as it was," he said. "It has an antique look with a modern look."
Aaron said he and his wife had done home renovations on a much smaller scale, but thankfully, they had a lot of professional help and family assistance in finishing their plan for the 5,000-square-foot home. He said they contracted out some projects including the drywall and sheetrock, bringing back the original plaster to the exterior and interior walls, installing crown molding on the first level and incorporating new tile in certain areas of the home.
"My mother-in-law helped do some remodeling, painting and a lot of the interior work," Aaron added. "We had quite a bit of hands in there, which helped speed up the process and make it perfect."
Even though modern amenities and features were added to many aspects of the house, including the open concept living room, dining room and kitchen, the Clarks tried to keep and restore many aspects of the home, including the original wood floors.
"My wife and I were able to bring back a lot of the original floors. I patched them and she stained and waxed them," he said. "There was also a unique size of the original floor trim. We kept that and/or tried to replicate it. We loved the original flavor of the house."
Any doors left behind, the original wood floors, including the grand staircase and landings, were restored to their former glory, as well as a stained glass on the second level landing that is beautifully designed with orange, blue and red hues.
"It is above this large window that looks out to the back of the house," Aaron said. "We also found some old toys while renovating and landscaping the yard, light fixtures and things like that, but much of that was not usable (like the stained glass). It was fun to find."
The Clarks enjoyed living at 500 E. Miller - sliding across the wood floors in the open concept living space on the first floor, loving the renovated master bedroom suite with a walk-out porch above the covered sleeping porch out back, or utilizing the attic space with ceilings 9 feet high as Aaron's photography studio and extra storage. Even though the family has since moved from this house, they continue to fine tune it and have plans for it in the future.
Aaron never thought he and his wife would renovate such a historic home, let alone receive a distinguished award for their efforts. However, he recognizes the importance in preserving these vital pieces of history.
"So many homes in this area have a rich history, and being a part of that is amazing," he said. "You want to hold onto that history, show how it was and now how it is. You drive by this house and it represents Jefferson City. So many things are changing and being modernized, but our roots need to be shown as well."