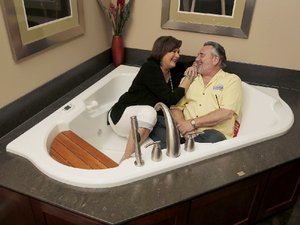 Arkansas Democrat-Gazette/JOHN SYKES JR - HIGH PROFILE VOLUNTEER - Fran and Michael Lanari, owners of Kitchen and Bath Concepts, who hold an annual Kitchen and Bath Concepts Expo each year with proceeds from their weekend long silent auction at the store benefiting Arkansas Children's Hospital.
My first bicycle offered me the freedom to expand my "area of influence," typically within my neighborhood. Although I enjoyed riding my bike, the opportunity not to be bound by the limited area or time I could walk offered new options: sports, movies, fishing, swimming pools, new friends, etc. That first bike was freedom.
From 12-15 years old, my bicycle was a convenient and reliable means of transportation, within my control, for getting from points A to B. My bike was a vehicle of "opportunity," ready to go when I was.
Once I had my driver's license, the next phase of bicycle riding for me was, in addition to jogging for sports, another form of exercise. I still try to ride my bike, for exercise, usually early in the morning before a significant number of cars are on the street. I welcome the various bike lanes, trails and greenways in Jefferson City.
I still have, and ride for exercise, my original red mountain bike purchased in 1990, which is a hardtail (no suspension) with fat tires and 21 gears. I have ridden this bike on numerous trails, including the Kokopelli Trail in Colorado, ski hill trails and the Katy Trail.
There are some instances in which bicycle riding serves as a means to support a cause, such as the Bike Ride Across Missouri or Rotarians riding in support of eradicating polio. I am not much for participating in bicycle racing, but many bicyclists do enjoy races.
Now I ride for fun. My current mountain bike, a little more sophisticated than my red bike, provides my older self the opportunity to experience some thrilling local rides over hills, trails, creeks, jumps (particularly when I do a double midair flip; OK, that may be a bit of an exaggeration), etc.
There are several excellent bicycle shops in Jefferson City that sell various types of bicycles, repair bicycles and are an excellent source of information on bicycles. A bike shop typically has bikes one can test ride and, in some instances, borrow for a day or two to make sure a specific bike matches one's intended uses. Spin bikes, which can be rented for a short period of time, are also a good way to obtain an introduction to biking.
So, I ride for freedom, transportation, exercise and periodically for a cause - but mostly for pure enjoyment.
Steve Crowell was appointed to the position of city administrator of the City of Jefferson on March 10, 2014. He has more than 30 years of service in public administration, serving as city manager/administrator for communities in Georgia, Florida, Colorado and Nebraska. He has also worked in city government in Dallas, Texas, and Annapolis, Maryland.