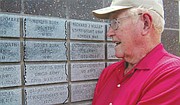 Prior to becoming a state, Missouri's government was first in Mansion House at Third and Vine in St. Louis. Then it was in St. Charles at Missouri Hotel at Main and Morgan. When Missouri finally became a state in 1821, a temporary capitol northwest of the Missouri River in the River Front neighborhood of St. Charles was designated the temporary capital. The Missouri Constitution said the capital needed to be centrally-located, on the Missouri River, and within 40 miles of the mouth of the Osage River.
The perfect spot was found, but no settlement had, as yet, been established there. A commission, appointed by the Missouri Legislature, established Jefferson City in 1821 to specifically serve as the state capital. Laid out by Daniel Morgan Boone and named after Thomas Jefferson, Jefferson City has the distinction of being the only city created for the express purpose of becoming a state capital. It was incorporated in 1825, and the capitol moved there in 1826.
The first capitol, known as "Governors House and State Capitol," was a two-story, brick building about 40 by 60 feet and cost around $18,500.
However, other cities didn't approve of the location and attempted to have the capital moved. In 1832, it was suggested by Gov. John Miller that they build a state penitentiary to strengthen the town's position as capital. Within four years, the prison was completed.
The following year, in 1837, the Capitol burned and, with it, all the state records. It didn't take long to rebuild, as the government had outgrown the first building and a second was already under construction on a nearby hill. Completed in 1840 at a cost of $350,000, this building was, by necessity, enlarged during the 1880s. And still, by 1911, it had again been outgrown.
But this time, nature made the decision for them. On the evening of Feb. 5, 1911, there was a thunderstorm and lightning struck the dome of the Capitol and the building caught fire. Although the building was a total loss, hundreds of volunteers managed to save many of the state records.
A special election was called Aug. 1, 1911, and Missouri voters approved a $3.5 million state bond for a new Capitol by a margin of 3-1. When a miscalculation of revenue projections created a $1 million surplus, state Attorney General Elliot Woolfork Major ruled that the money had to be used on the building.
Elizabeth Davis was born and raised in Cooper County, Missouri, and has written Historically Yours for the Boonville Daily News for more than 10 years. She has syndicated her column statewide and encourages readers to submit topic suggestions for future columns to [email protected].