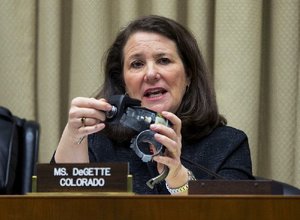 Photo by J. SCOTT APPLEWHITE / AP
Rep. Diana DeGette, D-Colo., holds up an ignition switch in April while she questions General Motors Chief Executive Officer Mary Barra on Capitol Hill in Washington.
No injuries were reported after a box truck fire Thursday morning in Jefferson City.
The fire was called in just after 9:30 a.m., according to Jefferson City Fire Department reports. The truck, which was hauling shredded paper, had exited off of westbound U.S. 50 at Lafayette Street and stopped at the bottom of the ramp.
Fire department officials said the fire appeared to have started in the truck's motor compartment.
Photo by PATRICK SEMANSKY / AP
An assembly line worker installs parts on a truck engine March at Volvo Trucks' powertrain manufacturing facility in Hagerstown, Md. Factory output rose 0.6 percent in May, the Federal Reserve said Monday.