During his 25 years at Crater Lake National Park, seasonal ranger Brian Ettling has seen warmer winters, less snow and rainier summers.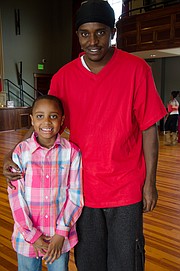 At his talk Wednesday evening at Runge Nature Center, Ettling made it clear his own observations mirror a much larger, climate change-related problem facing national parks.
"We're seeing it big time in our national parks," he said.
Ettling is part of Citizens Climate Lobby, a national non-partisan, nonprofit that advocates for policies designed to curb climate change. Today, he and George Laur, leader of the Columbia and Jefferson City branch of the group, will meet with Sen. Roy Blunt to address the topic.
However, back in his early days with the National Park Service, Ettling had not heard of climate change.
"When I was leading ranger talks in the Everglades, people started asking me about this global warming thing," he said.
Ettling began reading up on the topic, and what he learned alarmed him.
"In the 21st century, sea levels around southern Florida could rise three feet and swallow up most of the park and part of Miami," Ettling said.
He learned about rising carbon dioxide emissions, generated by vehicles and coal-burning power plants (the source of 80 percent of Missouri's energy) and the blanketing effect it created in the atmosphere.
"The earth has experienced a 1-degree Celsius increase in its average temperature since the 1880s," Ettling said.
He added while it might not sound like much, an increase of 1 degree in a person's body temperature would be a noticeable fever. Much like a person, the Earth is feeling the effects.
"Nature notices," Ettling said.
At Crater Lake, annual snowfall has decreased each decade since the 1950s, and the surface temperature of the water has increased by 6 degrees Fahrenheit. The water in the lake is the some of the clearest and purest in the U.S., Ettling said, but now, algae blooms may thrive and cloud the water.
And then there are pine beetles.
"What keeps pine beetles in check is cold, snowy winters," Ettling explained.
These days, the beetles survive the winters and are decimating whitebark pine trees, a species that shelters and feeds 50 species within Crater Lake National Park.
Ettling said national parks are already taking steps to curb their own carbon emissions. Crater Lake's rangers now drive electric or hybrid vehicles, and visitors can ride around in trolleys. He encouraged audience members at the talk to ask rangers about these measures when they visit parks.
"Hold our feet to the fire; be tough on us," he said.
He also asked people to join groups like the Sierra Club, Beyond Coal and Citizens Climate Lobby. While the Citizens Climate Change lobby meets with officials on both sides of the aisle, Laur said they tend to meet the most resistance from Republicans.
"Republicans we meet tell us Missourians don't care about climate change," Laur said.
Laur and Ettling said calling and emailing elected officials to voice support of protecting the environment can be effective.
"Nothing's worse than doing nothing," Laur said.
Ettling added it's also important to make it clear to Republican officials they'll have the peoples' support if they back climate change control measures.
"We like to blame it on politicians, but you really have to look around the room," Ettling said.