An architect, an attorney and a steelworker give 1107 Moreau Drive a rich history.
John Schaper designed the two-story brick home in Jefferson City for Ira Lohman, whose law practice was growing in 1937.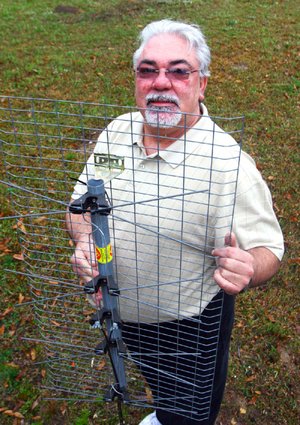 Photo by Stephen B. Thornton
An antenna that picks up digital television signals is shown by David Medlock of Hollywood Satellite and Sound Inc. in Benton.
Today it is the home of Betty Jo DeLong, widow of the late F. Joe DeLong Jr., with whom she helped grow the family blacksmith shop on Jefferson Street into today's industrial complex at Dix Road and Industrial Drive.
A first-generation American, Schaper studied architecture at Washington University in St. Louis, studied for a time under B.F. Olson in Chicago, and began his local business in 1932, according to the March 16, 2014, Jefferson City News Tribune.
The Sunday News and Tribune said Nov. 12, 1933, less than two years after he and Lucylle moved to the Capital City, Schaper was "rapidly becoming known here as one of the leading architects in this section."
Voters approved the bond issue in 1934, building two fire stations - a principal station at the corner of Chestnut and Miller streets, now the city's Fire Museum, and another on the west side - and allowing for the remodel of the then-city hall at the corner of Monroe and East High streets.
In 1935, he designed the county jail and sheriff's house in the 200 block of Monroe Street.
Schaper built the Centertown school in 1936 and wrote a column, "Home Building Helps" for the Daily Capital News.
He was appointed to the State Board of Registration for Architects and Professional Engineers in 1946.
His other notable works include the Coca-Cola building, a Missouri State Penitentiary warehouse, St. Peter Church's Selinger Center and the Fred Raithel home at 1204 Elmerine Ave.
The home for Ira Lohman was built with "ultra-modern" conveniences of the day, at almost triple what a contemporary home of that size would have cost. "It was built at the end of a housing boom along Moreau Drive, a genteel neighborhood, with live-in maids, elaborate gardens and carriage houses," the May 16, 2008, Jefferson City News Tribune said.
The gray-brick home is one of only two examples of Georgian-influenced architecture in the historic area.
"Louis (Ming) Lohman, the son of Ira Lohman, a teenager when the house was built, recalled that the contractor told them 'the concrete on the foundation would support a seven-story office building,'" the 2008 city Landmark nomination said.
The April 25, 1937, Sunday News and Tribune reported it was not larger than contemporary homes but "will adapt many features which hertofore have not been used," focusing on fixtures and interior finishing, including a large marble fireplace in the living room and a winding staircase.
The newspaper said its Colonial-Georgian design "will break the monotony of single-type construction."
Attorney Ira Lohman lived in the Schaper-designed home for 40 years.
He grew up in one of Jefferson City's iconic stone homes in the 900 block of Jefferson St., razed in recent years by the owner, the Salvation Army. Ira Lohman was the son of downtown merchant Louis Lohman and wife Amelia and grandson of Lohman's Landing pioneer Charles Lohman and wife Henrietta.
His father and grandfather "were for more than 60 years conspicuously active factors in the development of Jefferson City and central Missouri," according to Ford's "History of Jefferson City."
Ira Lohman began practicing law in 1909, after studying at Missouri State University in Springfield. He operated a partnership of Pope and Lohman for 12 years before opening his own law practice focused on corporate law.
Lohman was the public administrator in 1924 and served as the secretary of the state board of law examiners 1927-32. He was an honorary colonel for Gov. John Dalton and a lay leader at First United Methodist Church.
He married Ida May Maring, of Carthage, in 1914, and they had four children.
F. Joe and Betty Jo DeLong bought the Ira Lohman home in 1992. The couple previously lived up the road at 1115 and 1137 Moreau Drive.
By age 12, DeLong was working in his father, Fred's, blacksmith shop on Jefferson Street, according to the company website.
At age 18, he arrived in Wichita, Kansas, to compete in a welding contest, which he won, and subsequently was hired by Clyde Cessna, founder of Cessna Aircraft Co., as one of his first 35 employees, according to Immaculate Conception Church's August 2011 News from the Pews.
The couple met while staying at the same boarding house, while he worked for Cessna and she was attending Adela Hale Business College in Wichita to become a public stenographer.
The DeLongs married in 1942, when he became plant superintendent of Cessna's new plant in Hutchinson, Kansas.
But they returned to Jefferson City in 1944, living in a duplex behind the family blacksmith shop.
"It was here that Joe invented and patented the pole trailer," according to the church newsletter. "It was very useful to the utility companies for delivering poles to sites as they installed the electric lines."
He relocated the family business to the present corner of Dix Road and Industrial Drive in 1954, where the company continues to expand its market, selling bridges to more than 20 states.
He was chairman of the industrial committee instrumental in the relocation of Von Hoffmann Printing Co. and bringing McGraw-Edison and Armco manufacturing firms to Jefferson City in the 1950s.
By 1961, DeLong had received the Junior Chamber's Distinguished Service Award and had been elected to the Central Missouri Trust Company board of directors.
He served on the Housing Authority board, was a chamber ambassador and chairman of the Chamber of Commerce's Industrial Development Commission in the 1970s.