The seventh annual Midwest March for Life on Saturday at the Missouri Capitol began with some honors bestowed upon local youth for their participation in anti-abortion efforts.
At 8 a.m. on the Capitol steps, LIFE Runners co-founder Pat Castle recognized 5-year-old Boston Schroer, a pre-K student at St. Martin School. Schroer was awarded the organization's male student of the year award on Tuesday at his school.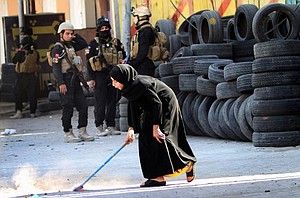 Photo by ASSOCIATED PRESS
A young woman sweeps debris from the site of a car bomb attack in Basra, 340 miles (550 kilometers) southeast of Baghdad, Iraq, Sunday, Oct. 13, 2013. A string of bombings in mostly Shiite-majority cities across Iraq on Sunday killed and wounded dozens of people, officials said, a grim reminder of the government's failure to stem the uptick in violence that is feeding sectarian tensions in the country.(AP Photo/Nabil al-Jurani)
Castle said the organization has 5,161 members world-wide. According to LIFE Runners' website, there are 99 chapters in all 50 U.S. states and 29 countries in the Americas, Europe, Africa, Asia, the Middle East and South Pacific.
In a surprise announcement, Helias High School's LIFE Runners student chapter was awarded the inaugural student LIFE Runners chapter of the year award on Saturday after Schroer was recognized.
Castle said Helias is the first and largest student chapter, with about 100 out of the 700 students who attend Helias participating.
The Jefferson City area has seven local LIFE Runners chapters - Jefferson City High School, Blair Oaks High School, Helias, Immaculate Conception School, St. Joseph Cathedral School and St. Martin School, in addition to the city-wide chapter.
The local chapters together have more than 450 teammates - the most of any city in the world.
The organization's top priority is to raise visibility of the anti-abortion movement by having team members wear custom jerseys and participate in marathons, relays and other races.
Castle said of the youth present Saturday morning, "this is what inspires us" in their anti-abortion fight after 44 years since the ruling in Roe v. Wade - the U.S. Supreme Court case decided 7-2 in which the court ruled that the right to privacy protected by the Fourteenth Amendment of the U.S. Constitution extends to a woman's right to have an abortion.
"We're always going to have to defend pro-life even when the Supreme Court strikes it down," he said.
There were about 60 people with the LIFE Runners group, and most of them ran or walked around the Capitol area as some of the first scheduled activities of the day began.
This year, many of the speakers at rallies seemed to have renewed energy in the anti-abortion movement, and high expectations that the Supreme Court under Republican-controlled state and federal governments will soon overturn the court's 1973 decision.
"How about those election results?" Msgr. Robert Kurwicki said to a response of applause inside the Capitol Rotunda as he prepared to offer the opening prayer at the rally under the dome. Kurwicki is the pastor of St. Joseph Cathedral Church in Jefferson City.
"We have the government on our side at the state and national level," Reagan Barklage of Students for Life of America said. "We are the pro-life generation," she started as a chant, one that was popular with protesters throughout the day.
"He loves the babies," Bridget Van Means of ThriVe Express Women's Healthcare said of President Donald Trump. She cited Trump recently defunded foreign nonprofit abortion providers that had been receiving U.S. aid money.
This so-called "Mexico City policy" had been instated by President Ronald Reagan, overturned by President Bill Clinton, re-instated by President George W. Bush and overturned again by President Barack Obama.
"God has given us a four-year reprieve, if not longer," said Connie Eller - founder, president and coordinator of the nonprofit Missouri Blacks for Life.
Eller warned politicians though the movement does not plan on holding back because of the shift in power. "If they don't give you their (pro-life) vote, don't give them yours," she said.
"We need to hold everyone accountable from the White House to the dog house," said Zina Hackworth of This Race Will Self-Destruct.
As of the count shared by emcee Mark Serafino, between 700 and 800 people had rallied inside the Capitol Rotunda. Many had children and infants with them, as well as anti-abortion signs.
At one point, the march itself - which ran from St. Peter Church around the north side of the Capitol to Madison Street and along High Street back to the Capitol - extended from the intersection of Madison and High back around and out of sight past the Governor's Mansion on Capitol Avenue.
The keynote speakers at the Capitol rally were Dr. Vansen Wong - a former abortion provider - and Ryan Bomberger - co-founder of the Radiance Foundation.
Rep. Mike Kelley, R-Lamar, Rep. Charlie Davis,R-Webb City, Rep. Diane Franklin,R-Camdenton, and Sen. Ed Emery, R-Vernon County, were all honored with "Patriot and Statesman for Life" awards. Emery accepted via a spokeswoman.
Particular note was made at the rally of a city ordinance in St. Louis that proposes to prohibit discrimination based on a person's reproductive health decisions or pregnancy. St. Louis residents in attendance were encouraged to call their local alderperson to voice opposition to Board Bill No. 203.
"(Supporters of abortion services) know we're about to break the four-minute mile, and when we break it, every state's going to break it," Van Means said in reference to closing the Planned Parenthood of St. Louis - the only remaining abortion provider in the state.