MOKANE, Mo. - As motorcycles drove into the gravel parking lot at Amvets Post 153 in Mokane this weekend, residents shared why they came out to support the 11th annual Frogs and Hogs event.
"It's getting bigger every year," Slick Simons, of Mokane, said.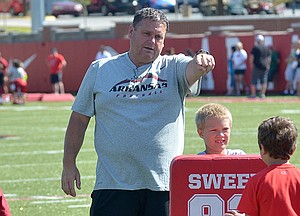 Photo by Michael Woods
Arkansas offensive line coach Sam Pittman helps kids work on their blocking skills during the University of Arkansas Youth Football Camp at the University of Arkansas.
The two-day event, held every year to show support for local veterans, featured music, food, bike games and poker runs.
Billy Spencer, event organizer, said that he never served in the military, but this does not stop him from wanting to support veterans.
"This is the way I can give back to help the veterans," he said. "It opens the public's eyes, seeing vets support each other."
Although Simons never served overseas, his father, Howard Simons, did.
"He didn't like to talk about it," Slick Simons said about his dad's service.
Slick Simons tries to appreciate those who have served the country by visiting places such as Pearl Harbor and Camp Crowder Army Post in Newton County.
"It gives you a feeling that (the battles) just happened," Slick Simons said.
He also reads history books.
"Anytime I see a book about World War II, I buy it," he said.
Dave Fulks, of Jefferson City, said riding motorcycles gives him a sense of brotherhood, adding that motorcycle riding is his main method of relaxation.
Fulks is part of a 40-member motorcycle club in Jefferson City, which he said rides year-round. He has traveled across the country on his motorcycle, visiting places such as Sacramento, Miami and Virginia Beach. In the near future, he plans to take a motorcycle trip to Houston with some members of the club.
Fulks said he and his friends like to support the annual Frogs and Hogs event.
"We just like to come out and support the local bikers and the local events," he said.