Carl Vogel is remembered as a quiet-but-active, caring man, as his family and friends prepare to celebrate his life in a Wednesday morning Mass of Christian Burial at St. Joseph's Cathedral.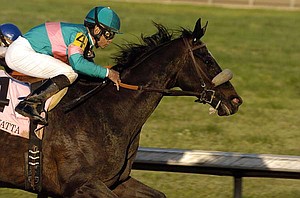 Photo by Mike Cooney
Arkansas Democrat-Gazette/MIKE COONEY 4/9/10 Filly Zenyatta pulls ahead and wins the Apple Blosson Stakes at Oaklawn Park in Hot Springs on Friday. Perfect weather and the filly Zenyatta drew a large crowd well into the thousands.
Vogel died Thursday night at Barnes-Jewish Hospital, St. Louis, after a 13-month battle with pancreatic cancer.
(Access his obituary online via this link.)
"Carl Vogel was a huge part of this community and area," former state Rep. Gracia Backer, D-New Bloomfield, said Friday. "He was always very quiet, but he knew what was going on. And he took care of business without fanfare or trumpet."
Lt. Gov. Peter Kinder said: "Jefferson City and Mid-Missouri have lost a stalwart advocate and champion. … I thank Kim and Jake and Kristen for sharing him with us."
Vogel was born March 7, 1955, and grew up in the family home at 800 St. Mary's Blvd., overlooking the original St. Mary's Hospital built on land his family had donated to it.
He graduated from Helias High School in 1975 and earned his bachelor's degree in business administration from the University of Missouri in Columbia in 1978. He then began working at the Jefferson City Coca-Cola Bottling Co. that his family had started 73 years earlier.
He was named the company's president in 1983 and always was proud to be part of the family's fourth generation to serve in the company operations.
After serving in the U.S. Army for several years, his son Jake Vogel joined the company, continuing the family's involvement to the fifth generation. Jake recently was named to succeed Carl as the company president.
"His business was front-and-center in the community," Randy Allen, Jefferson City Area Chamber of Commerce president, said. "I've known Carl personally for 40 years, and he would do anything for anybody.
"He was a leader in the business community" and served as chairman of the Chamber board in 1988.
Starting in November 1989, Vogel served two terms on the Jefferson City Housing Authority's commission.
"Carl was really quiet," now-retired director Allen Pollack recalled. "When he spoke, it was to-the-point and pertinent.
"The city has lost a really good, community-minded person."
Current state Sen. Mike Kehoe succeeded Vogel in the Senate, and said: "Carl and his family are part of the fabric of Jefferson City and central Missouri, and Carl's kindness and generosity were matched only by his success in business.
"Carl's service on many boards, foundations and in the Legislature were the manifestation of a heart that cared for and longed to help others."
For many, Vogel is known best as a state lawmaker.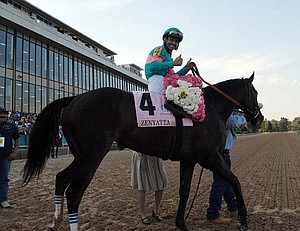 Photo by Mike Cooney
Arkansas Democrat-Gazette/MIKE COONEY 4/9/10 Filly Zenyatta jockeyed by Mike Smith gives a thumbs up on the track after they won the Apple Blosson Stakes at Oaklawn Park in Hot Springs on Friday. Perfect weather and the filly Zenyatta drew a large crowd well into the thousands.
He served six two-year terms as a state representative for western Jefferson City and Cole County, winning the first election in November 1990.
"He was good at finding solutions and helping his constituents," said U.S. Sen. Roy Blunt — who was Missouri's secretary of state when Vogel won that first election. "Carl was a great neighbor, a great friend, and a great representative and senator."
U.S. Rep. Blaine Luetkemeyer joined Vogel in the House in January 1999.
"Carl Vogel will be remembered as a successful businessman, tireless public servant, and most importantly, a devoted husband and father," Luetkemeyer said.
Charlie Shields, president and CEO of Kansas City's Truman Medical Centers, was elected to the House (from St. Joseph) at the same time Vogel first won a seat.
The two men also also moved to the state Senate together in 2003, leaving in January 2011 because of term limits.
Shields eventually served as the Senate's floor leader and president pro tem.
"I think another thing a lot of people didn't realize was that (Vogel) was a very strong advocate for state employees," he said.
"State employees are such an important part of (government), and understanding how they fared had an impact on that community — and ultimately, on state government and the quality of people we were able to attract to state government."
Gov. Jay Nixon said: "As a legislator, Carl was dedicated to serving his constituents, particularly on fiscal responsibility, on children's issues and on maintaining our historic Capitol."
During his 20 years in the Legislature, Vogel rarely spoke during debate in either the House or Senate.
"When I was (House) floor leader," Backer recalled, "one time he got up for an amendment and we just called the House to order, and everybody sat down and we were really quiet — because, out of all the years he'd been there, that was the first time he ever had done an amendment.
"It wasn't because he didn't know, or he didn't want to or he didn't support (things) — it was because he was behind the scenes doing the work."
Numerous people agreed behind-the-scenes work was Vogel's strength.
"Absolutely," Allen said. "That's the best way to describe him — he was not there for headlines, but he was there to get the work done.
"He really did work across party lines, and primarily, he worked for our community."
Shields added: "I think part of that was, he wanted to get things done without necessarily drawing attention to himself."
Martin "Bubs" Hohulin also joined the House after that November 1990 election and grew to be one of Vogel's friends and then became Vogel's Senate chief of staff in 2003.
"He never felt the need to call attention to his accomplishments. Ever," Hohulin said Friday night. "Not only did he not crave the spotlight — he didn't even enjoy the spotlight."
But he was in the spotligh" — or at least the public's eye — a lot.
Vogel was a member of numerous organizations and boards.
He spent a lot of his spare time as a sports referee and umpire.
"He gave of himself and his resources to every cause in town and every cause in Mid-Missouri," Kinder recalled. "Every little league, every parish supper — every good cause that you can name, he was a part of."
Stephanie Johnson, head of the Boys and Girls Clubs of the Capital City, said Friday: "Carl made a sizable contribution to our (new building project). His son, Jake, is on our board of directors.
"Carl and his family have always been supporters of our mission."
Allen said: "I just could not imagine how much (the Vogel family) contributed to the community in cash-dollars and in-kind stuff over the years — but it was just their nature. And Carl became the face of that.
"And, as a legislator, he was the most straight-forward, easy-going, what-you-see-is-what-you-get guy there was."
Several people said it's hard to pick only one or two things that happened in the community because of Vogel's work.
But, Allen — who worked in state government before taking the Chamber job — recalled: "He was sort of instrumental when the MSP thing (Missouri State Penitentiary redevelopment) was being discussed. And he was very, very helpful in those early days of being willing to assist with the funding of the new (Jefferson City Correctional Center) and obviously assist with all the changes at the old one."
Former state Rep. Bill Gratz, a Democrat, served the eastern half of Jefferson City and Cole County at the same Vogel was in the House and also worked on the MSP project.
Gratz lost the 2002 election, with Vogel becoming the fourth consecutive Republican in a then- 30-year stretch to represent the region in the state Senate.
Stoddard County Circuit Judge Rob Mayer — who also served with Vogel in the House and Senate and was a Senate president pro tem before leaving the Legislature — said Saturday: "Sen. Vogel was a selfless public servant who focused on the needs of his constituents.
"He was a man of utmost character who was extremely proud of his family."
Hohulin said some people didn't know Vogel had a strong sense of humor.
Vogel had some political enemies, and politics — either his own or the actions of others — likely cost him some friendships.
But, Kinder said: "He was very rare individual of whom you never heard anybody say a bad word."
Kehoe said: "I am grateful for the opportunity to serve in the same Senate seat that Carl held for eight years, but much more than that, I am blessed to have known Carl Vogel as a friend.
"I am thankful for the legacy he leaves behind and for the impact he has had on my life."
Hohulin added: "In our culture, it's always expected that when somebody passes away, we say good things about them.
"In Carl's case, they're all true, and there's an endless number of stories and examples."
Brittany Ruess of the News Tribune staff contributed information used in this story.
See also:
Previous coverage: