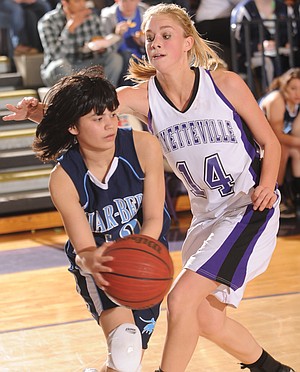 Photo by Andy Shupe
STAFF PHOTO ANDY SHUPE Fayetteville senior guard Calli Berna, right, reaches to steal the ball from Har-Ber sophomore guard Jessica Olson during the second half of the Lady Bulldogs' 63-30 win Friday, Feb. 19, 2010, at Fayetteville High.
CAMDENTON, Mo. -- Mayor John McNabb presented a Citizen's Award to resident Candace Munsee and a Letter of Commendation to city police officer Chris Williams at the town's Sept. 2 Board of Alderman meeting for saving the life of an injured resident.
According to a news release from the City of Camdenton, the pair's quick response and actions during a medical emergency that occurred on Aug. 13, managed to keep a severely wounded resident alive until emergency help arrived.
Munsee was just turning onto a city street when she noticed a man lying on the ground. Because the man was barely responsive she quickly called for help. A few minutes later, Officer Williams arrived on the scene and worked with Munsee to aid the individual until emergency responders arrived on the scene.
The pair learned later that the man, who was bleeding profusely, had been injured after falling onto a large jagged shard of glass while carrying groceries into his home. Ambulance personnel later told the pair their quick action most likely saved the man's life.