SPRINGFIELD, Mo. - For the second straight day, the Fatima softball team scored three runs on two homers in a Final Four contest.
With Lathrop scoring 10 runs on 13 hits, however, the result Saturday was not quite as sweet.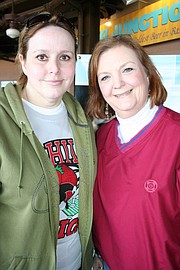 The Lady Comets fell 10-3 to the Lady Mules in the Class 2 championship game at the Killian Softball Complex.
"We've accomplished so much this year, from coming off a state championship last year, losing six seniors," Fatima coach Dana Scheppers said. "I don't think anybody expected us to be where we are right now, and that is second place in the state. I'm very proud of what these girls have accomplished this season."
The Lady Comets' second home run came off the bat of shortstop Sammey Bunch in the final plate appearance of her high-school career. Following a double earlier in the game, the solo shot capped her state record for hits in a season at 71.
"That's a great way for her to end her career," Scheppers said. "She obviously left it all on the field."
Lathrop took a lead in the first inning off back-to-back doubles. The Lady Mules made it 2-0 in the third on a solo home run to dead center from Jacque Gentzell.
Bunch began the next inning with her double, the Lady Comets' first hit of the game. Pitcher Macy Berhorst then knocked a homer over the right-field fence to even the score.
"Honestly, when that home run was hit, I thought maybe it was a turning point for the game," Scheppers said. "But they can hit."
And hit they did. The Lady Mules started the bottom of the inning with a base hit and a one-out bunt single. The next batter grounded to second baseman Morgan Berhorst, who fired home in time for catcher Macy Buscher to apply the tag. Lathrop leadoff hitter Allie Rooks then gave the Lady Mules a lead once again with an RBI single to right.
The Lady Comets looked to have escaped the inning with minimal damage when the following hitter tipped a short grounder in front of Buscher. The runner was called safe on a bang-bang play at first, however, and Lathrop's lead grew by one. An error led to Rooks scoring and a 5-2 Lathrop lead.
Lady Mules starter Brooke Huitt struck out the side, and the Lathrop bats rewarded her with an even larger cushion. The Lady Mules scored five runs in the fifth off three hits, the last of them a three-run homer golfed over the fence by Arizona Gallagher.
"It snowballed," Scheppers said, "and once that home run made it a 10-2 ballgame, I think it kind of started to sink in with the girls. But they didn't give up."
Bunch kicked off the sixth inning with her solo home run over the fence in center field. It was Bunch's fourth straight playoff game with a solo home run. The Lady Comets put two runners on in the seventh but fell short of staging a rally.
All six of the Lady Comets' runs during the weekend came via a home run. Fatima beat Iberia on Friday 3-1 with homers from Bunch and Hailey Buscher.
The loss was Fatima's first in 12 games, a streak spanning nearly a month. Their last defeat came in Springfield as well, on Sept. 26 to Camdenton in the Springfield Invitational.
In the 2014 state tournament, Fatima defeated North Platte and Pleasant Hope to take the Class 2 title. Six starters from the team graduated the following spring.
"This year we're losing six seniors again, so hopefully that'll be a little more motivation for these girls," Scheppers said. "You know, hey, we did it last year, we can do it again next year."
That's not to say there aren't some key returning players, including the battery of sophomores Macy Berhorst and Macy Buscher.
"That's nice to have that," Scheppers said, "and for them to have this experience already and just the feel of it hopefully motivates this whole team to come back again."
Follow News Tribune sports reporter Brandon Foster (@BFoster91) on Twitter for updates during local games.
Here are Brandon's updates on Twitter during Saturday's Fatima game:
3:46 PM - Fatima trails Lathrop 1-0 after one inning. Lady Mules get a pair of two-out doubles.
3:56 PM - Score remains Lathrop 1, Fatima 0 after two innings of the Class 2 state championship.
4:11 PM - A solo home run gives Lathrop a 2-0 lead against Fatima after three innings.
4:20 PM - Fatima's Macy Berhorst hits a two-run homer to tie the state championship game at 2 with Lathrop.
4:33 PM - Lathrop scores three runs in the fourth inning to take a 5-2 lead on Fatima.
4:58 PM - Lathrop adds five in the bottom of the fifth to extend its lead to 10-2 against Fatima in the state championship game.
5:05 PM - Sammey Bunch hits a solo home run for her fourth straight playoff game. Fatima trails Lathrop 10-3 after five and a half.
5:12 PM - Fatima down to its final three outs, trails Lathrop 10-3 in the state championship game.
5:25 PM - FINAL: Lathrop defeats Fatima 10-3 in the Class 2 state championship. #mopreps
_
Editor's Note: An incorrect final score appeared briefly in the headline when this page was first posted before it was corrected.