WARDSVILLE, Mo. - It wasn't an easy choice. In fact, she didn't even want to pick.
But if Sammey Bunch had to select a favorite of her two hits Wednesday at the Falcon Athletic Complex, she said she'd go with the second.
Not the first, a triple that set a state record of 66 hits in a single season. But the sixth-inning home run she crushed past the left-center fence to nudge Fatima past Blair Oaks 1-0 in a Class 2 softball sectional.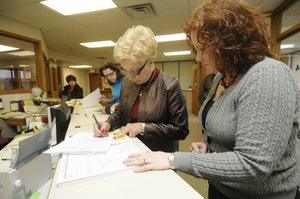 Photo by J.T. Wampler
STAFF PHOTO J.T. WAMPLER Washington County Judge Marilyn Edwards, left, signs the paperwork to run for re-election Monday while Jennifer Sharpshair, deputy county clerk, assists. Edwards was the first person to get her paperwork in Monday, the first day for candidates to file to run for elected office.
"I mean, the record's all good and everything, but I'd probably say the home run just because it won the game," the senior said. "It's always good to win."
A run was all Lady Comets pitcher Macy Berhorst needed, as she held Blair Oaks to four baserunners - the first and only hit coming in the top of the sixth inning off the bat of Carli Buschjost.
Fatima (20-9), the defending state champion, will host Centralia (23-3) at noon Saturday in a quarterfinal contest.
"Macy Berhorst did a wonderful job on the mound," Fatima coach Dana Scheppers said. "I mean, they're a good hitting ballclub. Blair Oaks is a very good ballclub ... but Macy held them to no runs, and as a sophomore to come in after last year and be able to take over where we left (off) last year is outstanding on her part."
Despite playing in Wardsville, Blair Oaks was actually the away team because of the pre-game coin flip that determines the home team in sectional games.
The Lady Falcons went down in order in the top of the first, and Bunch began Fatima's hitting with her triple down the left-field line. The hit was a historic one, breaking the mark of 65 hits set by Bishop LeBlond's Audrey Glenski in 2012 and North Platte's Regan Nash in 2014. But it was also a strange one.
The ball initially appeared to be a ground-rule double, but Bunch then advanced to third and took home when the umpire ruled the ball was not lodged under the left-field fence. The umpires consulted one another, however, and Bunch returned to third because the play was dead by the time she left for home.
"I told Sammey just to come to third and then (the umpire) went and looked at it and then he said it's in play," Scheppers said. "So I sent her home, but at that time time was called. Next time, no matter what, I'm sending them all the way around."
Erin Eichholz walked on the next four pitches and stole second base. The Falcons escaped unscathed, however, when Bunch was tagged out at home on a fielder's choice relayed from pitcher Payton Staggs to catcher Nicole Otto.
"I kind of felt like we were getting out some jams," Blair Oaks coach Sharon Buschjost said. "Payton did an outstanding job buckling down and getting hitters out at crucial points."
Staggs had a stellar night of her own and didn't allow a second hit until the fourth inning when Erica Fick singled. Staggs induced a double play to get out of that inning, an inning after stranding Bunch at second following an error and a steal.
Tuesday, Staggs was named Most Outstanding Player in the Tri-County Conference.
"She pitched a fantastic game," Buschjost said. "Looking over her four years, probably one of the fiercest competitors - not just competitors but pitchers - that I've coached."
Staggs then kept the Lady Comets off base until Bunch came to the plate for the third time.
After tying the record with two hits in a district tournament win Thursday, Bunch had gone hitless in Fatima's game Friday.
"I think the pressure was on her," Scheppers said. "She wanted it so bad, and for her to finally come out today and break it, it's just a huge relief off of her back. Now I think Sammey can get back to (being) Sammey, being successful at the plate like she knows that she can do.
"She has worked her tail off all four years of high school, during the summer, everything, to be the player that she is, and I give it to her. I think it's well-deserving. Nobody else deserved it more than her."
With No. 66 out of the way, a relaxed Bunch left little doubt No. 67 would landing on the other side of the fence.
"I was hoping" it was over, Bunch said. "You've always got to sprint to first and find out when you round it."
Raegan Huhn drew a walk two batters later, but Blair Oaks exited the sixth without allowing another run. Then Hannah Schroeder lined to center to reach on a one-out error and put the tying run in scoring position. But a flyout caught in foul territory by Fick ended the game in cheers for the team and crowd in blue.
"I was concerned until Erica had that ball in her glove, because things can happen," Scheppers said.
The sectional win was Fatima's second straight against Blair Oaks after last year's back-and-forth 8-7 affair in Westphalia.
"In terms of intensity, it's at the top just about for the season," Buschjost said. "Not only for what's at stake but just when we play Fatima that's what it is."
Blair Oaks ends the year 20-9.
"It's not easy for high-school kids to experience a loss at this stage of the season," Buschjost said. "I credit our team with handling it in a very classy way and also understanding that Fatima's a very good team that we just lost to. There's nothing easy about that, and I give girls credit for trying to absorb that, understand it and move on."
Fatima's postseason continues to follow a familiar path. For the second straight year, the Centralia Panthers, who beat South Shelby 10-0 on Wednesday, are the team to beat if the Lady Comets hope to reach the Final Four.
Thanks to a close win Wednesday, Fatima will once again have that opportunity.
"I give it to Macy, I give it to the girls, it give it to our defense," Scheppers said. "I mean, we had great defense behind her, and if you put those two things together and then you have Sammey Bunch at the plate, what else do you want?"
Follow News Tribune sports reporter Brandon Foster (@BFoster91) on Twitter for updates during games.