TAOS, Mo. - A mostly-intact representation of early, rural church architecture and the resting place of the "Apostle of Mid-Missouri," the St. Francis Xavier Catholic Church and Rectory have been nominated to the National Register of Historic Places.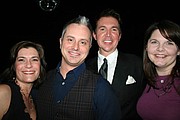 "I was surprised it was not on the National Register already," said Roger Jungmeyer, a professor of history at Lincoln University, who prepared the nomination with help from local historian Tiffany Patterson.
"It's significant historically and architecturally," he said. "It's important to preserve history for the continuity."
The present church building was built in 1883 of stone and brick in the Late Victorian/Romanesque Revival architectural style.
The center steeple-style church was built from specs from local builders W. Vogdt and Fred H. Binder.
Stained glass windows throughout the sanctuary depict aspects of Catholic beliefs or services - Annunciation, Visitation, Nativity, presentation and chalice, resurrection, ascension, descent of the Holy Ghost, the assumption and a crown.
The 26-foot-high chancel with 19-foot-high side altars was built by German orphans at the Josephinum in Columbus, Ohio. The centerpiece was purchased in 1885 and the side pieces in 1904.
Josephinum, now the pontifical college Josephinium, was an orphanage for boys that began in 1875. It was a trade school providing training in printing, church furniture construction, tailoring, shoe repair, baking and farming.
The tomb of Father Ferdinand Benedict Helias D'Huddghem, who founded the parish, is made of rose granite and augmented with stained glass windows in the southwest vestibule of the church. He originally was buried in the church's cemetery and reinterred in the church during 1964 renovations, Jungmeyer said.
Helias, who was aristocratic-born in 1796 in Belgium, entered the Jesuit order in 1825 and arrived in New York in 1833. He was sent to St. Louis University in 1835 and finally arrived in Central Missouri in 1838.
That year, Helias celebrated Mass at the home of Herman Nieters for about 20 immigrant families in the area, which later organized as St. Francis Xavier parish.
Helias would establish seven parishes in Taos, Westphalia, Rich Fountain, St. Thomas, Loose Creek and Cedron. Taos was third. Additional parishes developed as a result of his work, including those in Vienna, Freeburg, Koeltztown, Argyle, St. Elizabeth, Mary's Home, Folk, Brinktown, Meta, Osage Bend, Wardsville and St. Anthony.
Helias also was the first known cleric to attend to the spiritual needs of inmates of the Missouri State Penitentiary, the nomination said.
The St. Francis Xavier parish built a small log church in 1840 and five years later, built a substantial stone building, occupied in May 1845. The stone church primarily was built and furnished through the generosity of Helias' mother, Marie Helias D'Huddghem, Countess of Lens, the nomination said.
Helias' personal possessions and materials related to the period of his missionary work and the early history of St. Francis Xavier parish are located in a small museum established in 1988 in the church basement.
The stone rectory was built in 1923 following plans from St. Louis builders Frank Ludewig and Henry Dreisoerner in a medieval German style.
Taos was settled by Germans and Belgians in the 1830s. Originally known as Haarville, for Henry and Gertrude Haar who owned land in and around the settlement, the town changed its name to honor the many local men of the 2nd Missouri Volunteers who fought in the Mexican-American War, some in the Battle of Taos.
"The small settlement was typical of rural crossroads, supporting a general store south of the church," the nomination said.
Multiple bells from the Henry Stuckstede Bell Foundry in St. Louis were installed in 1893 and a 13-register Hinners pipe organ was installed in 1898.
"Rural churches, especially rural Catholic churches, were often centers of small complexes that included schools, cemeteries, outhouses and rectories," the nomination continued. "As parishes disbanded or populations changed, auxiliary structures were often lost.
"St. Francis Xavier, however, has flourished and as a result, retains its associated resources including cemeteries established in 1849 and 1888, church 1883, school 1921, rectory 1923 and convent 1958."