When the automobile was new, traveling opened up to a wider public.
Roadside motels, fuel stations and restaurants cropped up to serve them on their treks.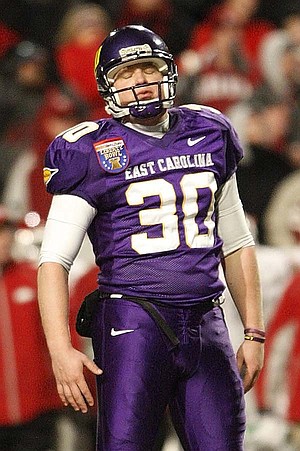 Photo by Mark Humphrey / AP
East Carolina place kicker Ben Hartman (30) reacts to missing a 35-yard field goal attempt in overtime at the Liberty Bowl NCAA college football game on Saturday, Jan. 2, 2010, in Memphis, Tenn. Arkansas kicked a field goal on their possession to win 20-17.
Such was the case in Jefferson City with the Warwick Village Motel.
In the early 1930s, John Guy Gibson, owner of Capital City Oil Company, saw commercial promise in a trapezoidal plot at the junction of U.S. 50 and Missouri 63 (now McCarty Street and East High Street, respectively).
First, he built a small DX filling station.
But his vision, likely inspired by a visit to the Chicago International Exposition, was for a tourist court, said Karen Grace in the July 1993 Preservation Issues.
"Bold experimental architecture and startling effects in color and lighting were dominant features of the Chicago exposition, which emphasized scientific and technological development in building construction," Grace said.
Among the "Street of Villages" exhibit was an example of a Warwickshire, England, village.
Gibson hired Harry Satterlee Bill, a prominent Columbia architect, to interpret the English village theme.
Fourteen tiny cottages were connected with garages and there was a separate restaurant. A decade later, the four-story, 23-room lodge was added, both projects by the Richard Schell Construction Company, according to thevillagesquare.net.
Originally, the medievalesque cottages maintained a continuous, common wall and were arranged around a central courtyard. Alternating stucco, brick or stone exteriors were offset by slate roofing in red, gray, brown or green.
"Despite its quaint appearance, Warwick Village contained all of the modern amenities that highway travelers were just beginning to expect in the mid-1930s - private baths with showers, electric lights and steam heat were not typical of most roadside accommodations in the state," Grace continued.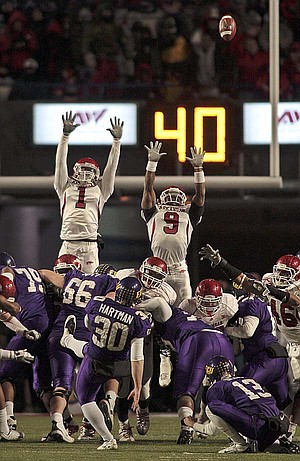 Photo by ben krain
East Carolina kicker Ben Hartman misses his 2nd fieldgoal in fourth quarter to send the game into over time. Hartman missed again in overtime.
The immediately popular destination was touted in a 1936 Chamber of Commerce booklet as "modern and attractive."
By 1946 Earl "Cherry" and Lois Grubb owned and managed the property, saying "all of the rooms were full by 4 p.m. daily," Grace wrote.
But change came swiftly in 1960, when both highways were by-passed by Whitton Expressway.
For a time, some feared the continually declining condition of the city Landmark would eventually lead to razing the lot.
Then retired Army Gen. Hank Stratman and his wife, Linda, bought the location before 2008.
The couple had spent years in Bavaria, Germany, and found the cottages and lodges reminiscent. A Vienna native, Stratman said he liked the challenge of reviving the once-beloved location.
Like their predecessor Mr. Gibson, the Stratmans also believe the location to have commercial promise as economic development continues on the east side.
Today called The Village Square, 1507 E. McCarty St. features a variety of small businesses in the remaining cottages, Brew House Coffee in the lodge, as well as loft apartments, executive suites and business offices.
In addition to being named a city Landmark in 1997, the historic Warwick Village met eligibility for the National Register of Historic Places in 1993.
The Historic City of Jefferson awarded the Golden Hammer for the Stratmans' work in 2011, and in 2010, the site was declared "nationally unique" by Keith Sculle, who has studied early motel courts across the nation.