Just over 10 percent. That's the overall success rate from 2009-14 for Mid-Missouri lawmakers getting bills they've introduced passed by the full Legislature and sent to Gov. Jay Nixon.
Lawmakers who still are in the Legislature this year have sponsored 488 bills or resolutions since 2009, then received enough support to get 51 of their original bills passed and sent to the governor - for a 10.45 percent success rate.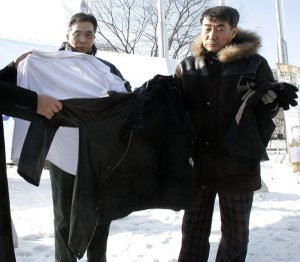 Photo by Ahn Young-joon / AP
South Korean Christians show clothes left behind by detained Robert Park, a Korean-American missionary, during an adhoc press conference at the Imjingak in Paju near border village of the Panmunjom, South Korea, Thursday.
Add in the two years Sen. Jolie Justus represented the "new" 10th District after redistricting - which includes Callaway, Audrain and Montgomery counties in Mid-Missouri - and the total bills sponsored jumps to 519, while the total bills passed inches up to 53, for a 10.21 percent success rate.
"As you know, over 1,900 bills usually get filed each session," Sen. Mike Kehoe, R-Jefferson City, noted last week, "and less than 200 make it across the finish line. ...
"If it doesn't make it across the finish line, that doesn't mean that you didn't try hard."
The numbers used in this story do not include ideas introduced in one bill, but ended up being passed as an amendment to a different bill with a different sponsor.
When lawmakers went home Thursday for the weekend, senators had introduced 226 bills to be considered in the 2015 session, and the House had received 469 measures. Both totals include bills prefiled between Dec. 1 and Wednesday.
The Missouri Constitution requires lawmakers to do only one thing each session: Pass a budget for the next state business year, that runs from July 1 to the following June 30.
Senate Appropriations Chairman Kurt Schaefer, R-Columbia, noted last week that studying the state's needs and writing those bills take a lot of time.
"That appropriations committee meets, probably, at least 10 times more than any other legislative committee - although the House Budget Committee meets just as much," Schaefer said. "So, I put more time in that appropriations process and working with the committee members than anything else I do on a weekly basis in the Legislature."
In his six years in the Senate, Schaefer has introduced 140 bills and helped 12 get passed but, as appropriations chairman, he is also the Senate sponsor of the House-passed budget bills.
However, all senators' sponsorship of House bills during Senate debate, and the representatives' sponsorship of Senate-passed bills, are not included in the statistics we've used in this story - but they are part of a lawmakers' time during the session.
Freshman Sen. Jeanie Riddle, R-Mokane, introduced 45 measures during her six years in the House of Representatives, and saw eight of those pass the General Assembly.
She didn't prefile any bills before the session began, nor did she introduce any measures during the Senate's first two session days, last week.
"We have some (bills) that we're working on but, being a new senator, I would love the opportunity to see how the whole situation works," Riddle explained. "But we're going to get our feet wet. I'm jumping in with both feet, shortly."
Perhaps more important than introducing bills and seeing them get through both houses and sent to the governor, she said, are the relationships lawmakers develop with each other.
"Relationships matter because, if you have something that really affects you in your area, you want people to be able to listen to you and help get whatever the situation is corrected," she said.
One example would be the discussion in recent years of the need for a new state mental hospital to replace the aging Fulton State Hospital.
Many of the hospital's employees live in or near her former, Callaway County-based House district.
But the hospital's state-ownership made her the focal point (along with Kehoe, Justus and some others) of explaining the need for a new facility to lawmakers from other parts of the state who didn't have the same intimate knowledge of the details.
Lawmakers last year approved a bonding plan to pay for the new $200 million facility, and the planning work is underway.
In his first four years in the Senate, Kehoe sponsored 50 measures, and saw 11 of them clear both houses in the Legislature.
"I'm one of those guys who thinks we have too many laws now, anyway," he said last week. "I don't like more.
"So, I like to make sure I file a few small ones that matter."
State Rep. Mike Bernskoetter, R-Jefferson City, has introduced only 16 measures in his first four years in the Legislature, and only one of those - creating the Joint Interim Committee on State Employee Wages, which Bernskoetter chairs - won support in both houses.
He noted much of his time in the Capitol is spent in the committee process - reading bills or talking with other lawmakers, and constituent groups, about what passing those bills might mean.
On a typical day, he noted, "You'll have a committee meeting at 8 o'clock in the morning, and then you'll go to the (House) Chambers at 10, and then you'll have a committee meeting at noon.
"And then, you'll possibly have a committee meeting in the evening."
Those committees are the first gatekeepers in the law-writing process. Many measures are sent to a committee after being introduced, and are never heard from again.
Others are given public hearings, but never leave the committee to get to the House or Senate floor for debate.
That's why the amendment process also is important, Bernskoetter said.
"Very few bills ever start out one way and end up that same way," he explained. "They're always amended or changed - there's hardly any bill that stays the same from start to finish.
"So, it's really not that important to file legislation."
Some lawmakers also have smaller "passed" numbers than others, because the bills they handled were more complicated.
"Some bills take a lot of time, particularly on subject matter that everybody's not familiar with, and it takes a lot of time to explain things," Schaefer said. "Or it may be something the Legislature's been working on for years - and so, when you bring up the bill, everybody's already familiar with the subject matter and things don't require as much time."
Lawmakers also pay attention to co-sponsorships - although it seems to be a bigger deal in the House than the Senate.
For example, although Bernskoetter hasn't introduced a large number of his own bills, he's been a co-sponsor of 73 other lawmakers' bills - including a number sponsored by Rep. Jay Barnes, R-Jefferson City, whose city-based district nearly is surrounded by Bernskoetter's mostly Cole County district.
Although senators tend to be far less active when it comes to co-sponsoring others' bills, Kehoe said there still is a reason for some co-sponsorships.
"Sometimes, when you want a bill to get passed, you want a chairman of a committee to co-sponsor it with you," he said.
In both houses, when most bills don't get out of a committee and the chairs are limited in how many measures they can report in each week, the chairs have a lot of power deciding which bills will get to the floor for debate and which won't.
And, when lawmakers aren't working on bills or talking with other lawmakers about bills - or meeting with lobbyists or citizens groups about bills - Bernskoetter noted there still are constituents' issues to be handled.
In many cases, constituents will ask their lawmaker to investigate issues involving state departments or agencies - and sometimes those situations become the inspiration for other proposed laws, either later this year or in some future session.