Elijah Mayfield never expected to see his name under a "most likely" in the Helias Catholic High School yearbook.
But when the 18-year-old opened up the publication, he saw his peers had given him two superlatives: most likely to put a smile on your face and most school-spirited.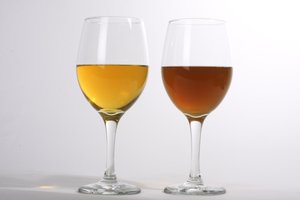 Photo by Shannon Sturgis
Mead can vary greatly in color and taste. Two home-brewed batches sit side-by-side for comparison. One is dark and sweet. The other is light and dry.
Although he was born with Down syndrome, the graduating senior was one of the most active students at Helias. He dove headfirst into the student section at nearly every varsity basketball game, surfing through the first two rows of the crowd like a bona fide rock star. He was a presence on the sideline of most sporting events, serving as a manager for the varsity football, baseball and basketball teams.
Before he graduated earlier this month, Helias secretary Kathy Gerstner put together a scrapbook for Elijah, compiling photos of his many experiences with the high school. One photo shows him flashing his characteristically large smile with Sen. Claire McCaskill. Another shows him leading a chant at a football game, his hands positioned around his mouth as he wails "Give me an H!" to the crowd.
To Elijah's father, Todd Mayfield, there's one picture that stands out. It was taken this year after the boy's basketball team finished third at the state championship. When the team's two seniors passed the silver trophy to Elijah, he stopped for a moment in the center of Mizzou Arena. The crowd cheering, he hoisted the trophy high over his head, smiling proudly.
Looking at the photo, it's easy for Todd to forget Elijah reads at a third-grade level and has cognitive delays. It's easy for him to forget that life for his son - the smiling boy with the cellphone that's always buzzing - is often made difficult by his Down syndrome.
"He just has this very positive energy around him most of the time, especially around other people," Todd said. "He has a genuine love for people."
---
Todd and his wife, Pam, were scared about their unborn son.
They saw the ultrasounds. Elijah's kidneys were too large. Inspecting the oversized organs, the doctor said the child could have a number of defects. She listed a handful of diseases, but one stuck out to Pam: Down syndrome.
When Elijah was born a few months later, she asked the doctor if there were any signs of the learning disability. As soon as Pam saw her face, she knew her son had Down syndrome.
But even in his first few months, both Pam and Todd noticed something special about Elijah.
"Even when he was very little, he had this amazing impact on people," Todd said. "He was very outgoing."
He spent his first few years attending the Special Learning Center, a local facility for children with special needs where Pam is now an office manager. It was a protected environment for Elijah, Todd said. He didn't get to interact with too many kids, but he still demonstrated strong social skills with the professionals he worked with.
Then elementary school came. After checking all of their options, Todd and Pam arrived at St. Peters, a Catholic school down the street from their Jefferson City home. It had a special education program called Vogelweid; he would be able to spend time with kids, as well as a specialist.
"I could learn science, social studies - I can't do it in a classroom, I need help with that," Elijah said. "They helped me out."
Although he quickly fell behind his classmates, the St. Peters faculty knew they couldn't hold Elijah back.
"They knew then that this class he was with was this amazing group of kids," Todd said. "That was kind of cool."
It was never difficult for Elijah to make friends at the school. When he was in fifth grade, Todd and Pam let him throw a swimming birthday party at the local YMCA, expecting maybe 20 kids to show up. To their surprise, more than 50 classmates attended.
And when Elijah broke his ankle in eighth grade, his younger sister, Hannah Mayfield, brought home a massive envelope with cards from friends. Later that night, Todd read the heartfelt messages and cried.
"It was so cool ... the stuff they were saying - they knew him, they didn't just tolerate him," he said. "For 13-year-old guys and girls to write these very personal messages to him was just so cool."
It was Elijah's friends, Todd said, who helped him get where he is today - a graduate of Helias. If it weren't for those friends, he may not have been able to even attend the high school.
---
Helias Catholic High School administrators saw no other option but to let him in. They had to.
Like most Catholic high schools, Helias didn't have a special education program. But the administration decided they would find a way to let Elijah attend. His classmates were too persistent - they begged faculty to let him in, and many students even volunteered to be his day-to-day aid.
Elijah's friends "inspired us to go and ask (if he could attend)," Todd said. "We went in with the approach, like, "We don't have any expectations academically ... but if we could figure out some way for Elijah to be here for these four years with this group of kids.'"
Elijah was allowed to enroll at the high school. Faculty knew it was going to be a challenge, Todd said, but they were going to do anything possible for the teenager. They often gave him extra help, as well as specialized assignments.
Still, it was a struggle.
Elijah worried about the lack of attention he was receiving. Unlike at St. Peter's, he didn't have the one-on-one attention of a specialist.
"When I first started over at Helias, they said they didn't have a (special needs) program," Elijah said. "I thought my life was over."
But it didn't take too long for Elijah to find his niche - sports. In his first fall semester, after someone asked if he would be interested in helping out with freshman football, he became a team manager. Over the next four years, Elijah would continue to help out with the football program, as well as manage baseball and basketball teams.
On top of providing water for the team and hyping up the crowd, he also got to be there for injured players. It was one of Elijah's favorite parts of the job.
When his best friend from St. Peters, Brock Gerstner, broke his fibula in football practice and had to sit out for the rest of the season, Elijah stood by his side.
"He would always have one hand on my back and offer to carry stuff for me," Gerstner said. "I knew how much he really did care."
Gerstner, who had to use a scooter for six weeks, said Elijah did everything he could to cheer him up. In particular, he told him how much fun it could be to use a scooter, reminding him that he had to do the same thing in eighth grade.
Helping people is just a part of Elijah's personality - today, he will tell you he's happiest when lending a hand. Although he dreams of one day becoming a bat boy for the St. Louis Cardinals, he plans on continuing to manage teams at Helias. At this point, most staff at the school consider him an assistant coach.
Although Todd is unsure what the future holds for his son, he knows Elijah still has plenty left to do at the high school he's come to love.
"I just want him to find something that's fulfilling," he said. "And right now, what fills that for him is helping out with the sports teams."