The unique, arched entry to The Villa with double wooden doors, ornate hinges and stained glass windows put 1025 Adams St. in local artist Mary Ann Hall's "Grand Entrances" work a few years ago.
The Mediterranean-style Jefferson City home was built for John Guy Gibson in 1925. It had to be distinctive for the oil company president to be neighbors with other industrial giants of the day like the Obermans and Tweedies, said current owner Steve Veile.
Gibson - whose wife, Juliet, was a descendant of Thomas Lawson Price, Jefferson City's first mayor - also built Warwick Village, today The Village Square.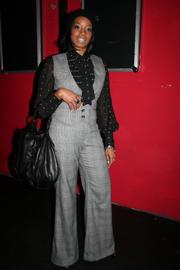 Steve and Kay Veile bought the home from George and Judith Goff, who owned it when it was named a city Landmark in 2005.
"It's a great house with a lot of character," Steve Veile said.
The interconnected floor plan provides great entertainment for their six grandkids, including the infant learning to balance on the steps to the raised foyer. Like the front doors, arches are a repeated theme throughout the house.
"It adds a softness," Kay Veile said.
The Veiles attribute many of the historic rediscoveries and updates to the Goffs, including miniature stained glass windows on either side of the living room fireplace, which had been covered up.
"It lightens it up and adds character to it," Steve Veile said. Several rooms retain original light fixtures, crown molding, flooring and steam heat. Also still in the house is an antique fire extinguisher - a glass globe filled with liquid.
"I love history and architecture," Steve Veile said. "Anything that goes back to the original time, I enjoy and like to see used and preserved."
When the Gibsons lived at 1025 Adams St., Steve Veile said he is certain they had a maid. He suspects today's pantry might have been a pass through to the formal dining room and the landing for a separate staircase upstairs.
Kay Veile has filled the pair of ceiling-high china cabinets in the cozy breakfast room with family and historical dishes.
The Goffs added a pressed-tin ceiling to the breakfast room. And they installed "new" kitchen cabinets, which they salvaged from a century-old farm house.
"We appreciate the craftsmanship, the interesting little things," Steve Veile said.
Throughout the home, the Veiles have blended modern and historic furniture and decoration - from the soft purple wall colors and the "Paris" room to the military photos of ancestors and furniture built by grandparents. "It's a nice balance of old and new," Steve Veile said. The Veiles have heard many stories about parties held in the home, both on the main floor and in the spacious lower level. And they agree, having the ability to host extended family gatherings is a bonus. "It's a great place for parties," Kay Veile said. "Everyone who visits enjoys being in the house."