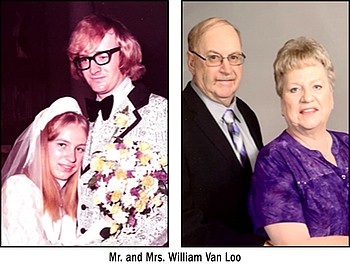 Anniversary
William Van Loo & Judy Van Loo
September 8, 2023
Mr. and Mrs. William (Bill) Van Loo, Jefferson City, celebrated their 50th wedding anniversary with a Mass at St. Joseph Cathedral, Jefferson City, and with a dinner at Steve's Family Restaurant, Lohman, hosted by their children.
William (Bill) Van Loo and Judy Lepper were married September 8, 1973, at St. Peters Church, Jefferson City. Rev. Michael Quinn officiated. They were attended by Marian (Berendzen) Bridges, Jefferson City; Penny (Lepper) Heckerman, Jefferson City; Diane (Eichholz) Jaegers, Bonnots Mill; Patty (Linnenbrink) Roush, deceased; Barbara (Linnenbrink) Welch, Jefferson City; Jerome (Pooch) Van Loo, Columbia; Wayne Sommers, Columbia; Larry Lepper, Jefferson City; Tom Barry, deceased; Ronnie Rodeman, Jefferson City; Vicki Eichholz, deceased; and Ted Van Loo, Jefferson City.
Mr. and Mrs. Van Loo have three children: Kimberly Van Loo (Gross) Waller and her husband Troy Waller, Boonville; Cory Van Loo and his friend Sarah, Oceanside, Calif.; and Lindsay Van Loo and her fiancé Matthew Luce, Columbia. They also have four grandchildren: Hannah Gross, Harley Waller, Christopher Gross, and Alyssa Gross.