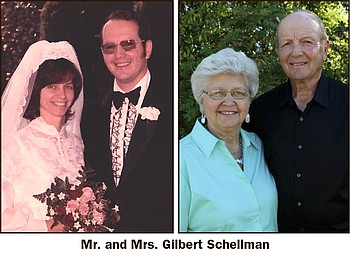 Anniversary
Gilbert Schellman & Betty Schellman
October 29, 2023
Mr. and Mrs. Gilbert Schellman, St. Thomas, are celebrating their 50th wedding anniversary today, October 29, with a Mass at St. Thomas the Apostle Catholic Church followed by an Open House at St. Thomas Parish Center, hosted by their children.
Gilbert Schellman and Betty Oligschlaeger were married October 20, 1973, at St. Lawrence Catholic Church, St. Elizabeth. Fr. John Degnan and Fr. James Offutt officiated.
They were attended by Bob Schellman, St. Thomas; Carol Otto, Jefferson City; Dick Schellman, St. Thomas; Donna Joannes, Kansas City; Lori Brenneke, Osage Bend; and Fr. Greg Oligschlaeger, Monroe City.
Mr. and Mrs. Schellman have three children: Kathy Rackers, St. Thomas; Steve Schellman and his wife Katrina, St. Thomas; and Renee Braun and her husband Bryan, St. Thomas. They also have nine grandchildren: Elizabeth Newbold, Ethan Rackers, Isaac Rackers, Ava Rackers, Owen Schellman, Blake Schellman, Jace Schellman, Kenadi Braun, Jackson Braun; and one great-grandchild: Mariah Newbold.