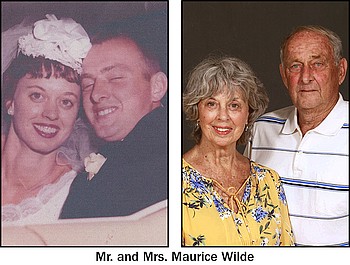 Anniversary
Maurice Wilde & Marilyn Wilde
November 16, 2023
Mr. and Mrs. Maurice Wilde, Westphalia, celebrated their 60th wedding anniversary November 16 with a Mass of Thanksgiving at St. Joseph Catholic Church, Westphalia.
Maurice Wilde and Marilyn Fechtel were married November 16, 1963, by The Reverend A. Hilke. They were attended by Gloria Brunnert, Jeannie Redel, Carole Cavender, Judy VanderFeltz, Pam Randazzo, David Wilde (deceased), Danny Wilde, Rick Fechtel (deceased), Conrad Rehagen and Mike Cavender.
Mr. and Mrs. Wilde have two children: Michelle Divine and her husband Steve, Wildwood, and Mark Wilde and his wife Amber, Westphalia. They also have five grandchildren: Paige Stuart Lea, Colby Stuart, Mason Divine, Warren Wilde, and Nevin Wilde.