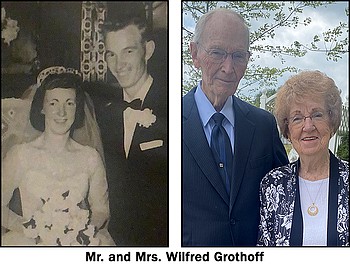 Anniversary
Wilfred Grothoff & Rita Grothoff
May 24, 1958
Mr and Mrs. Wilfred Grothoff, Jefferson City, celebrated their 65th wedding anniversary May 20 with an anniversary blessing by Monsignor Cox at Mass and with a family dinner hosted by their children and grandchildren.
Wilfred Grothoff and Rita Rackers were married May 24, 1958, at St. Stanislaus Catholic Church, Wardsville. Father Leo Holdener officiated. They were attended by Tom Grothoff, Taos; Bill Grothoff, Folk; Richard Grothoff, deceased; Mary Ann (Bernskoetter) Reinkemeyer, deceased; Norma (Bernskoetter) Bexten, Jefferson. City; and Carolyn (Bernskoetter) Schnieders, Wardsville.
Mr. and Mrs. Grothoff have three children: Randy Grothoff and his wife Camille Grothoff, Osage Bend; Darryl Grothoff and his wife Tina Grothoff, Taos; and Brian Grothoff and his wife Kristy Grothoff, Osage Bend. They also have eight grandchildren: Steven Grothoff, Kelsey DeMois, Rachael Schulte, Vince Grothoff, Anthony Grothoff, Courtney Grothoff, Cayden Grothoff, Carter Grothoff; and nine great-grandchildren: Taryn Doyle, Caleb Doyle, Grayson DeMois, Ciara DeMois, Oakley Schulte, Tyde Schulte, Nova Schulte, Kennady Grothoff, and Elliott Grothoff.